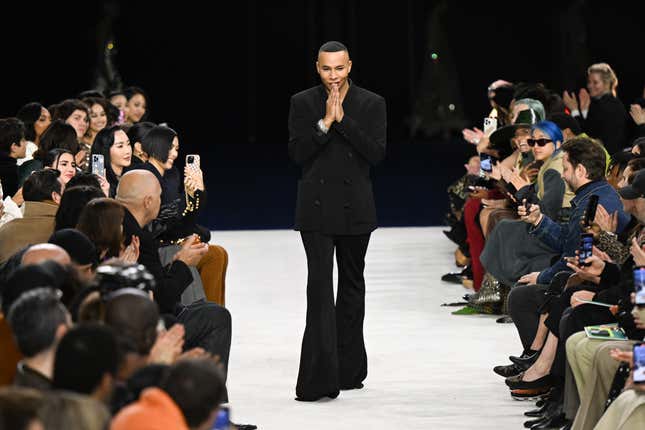 On September 16, more than 50 pieces were allegedly stolen from Balmain's creative director Olivier Rousteing's upcoming Paris Fashion Week collection. The pieces were supposed to be presented at the Balmain 2024 Spring-Summer show on September 27 of this year. You may recognize Rousteing for creating some of the most snatched and perfectly styled outfits for Beyoncé and Blue Ivy on this summer's Renaissance Tour, so it's no surprise that someone was after his anticipated fashions.
Music Producer & Beyoncé Collaborator, Dixson, Plays That's So Random
Rousteing took to Instagram to confirm that he woke up with a smile, ready for fittings at nine in the morning when he got the news: "I was starting to create some looks with my team and our driver called us and said that he was hijacked by a group of people. More than 50 pieces stolen."
The scary event occurred while the driver was on his way to Balmain headquarters from the airport. Rousteing confirmed in his caption that the driver was safe.
The Balmain show is set to still run on the originally scheduled day and Rousteing mentioned in his statement that he and his team will work to make up for the inconvenience. "We will work more, days and nights, our suppliers will work days and night as well but this is so disrespectful."
Paris Fashion Week is set to kick off on September 25, and Balmain typically shows less than one hundred looks per show, meaning that this theft is a huge blow to the hard work that was put in to create the collection.

Rousteing became the creative director of Balmain in 2011 when he was only 24. He's since had a wildly successful career. This year one of his biggest projects to date was revealed, a collaboration collection with his muse Beyoncé to create a look for each song on her Grammy Award-winning Renaissance album. He also created looks for the world tour posting the outfits on his Instagram captioning, "This tour is a revolution, thank you for supporting us and bringing all the creatives through your beautiful journey around the world. This tour is iconic, your vision is beyond. I love You @beyonce."