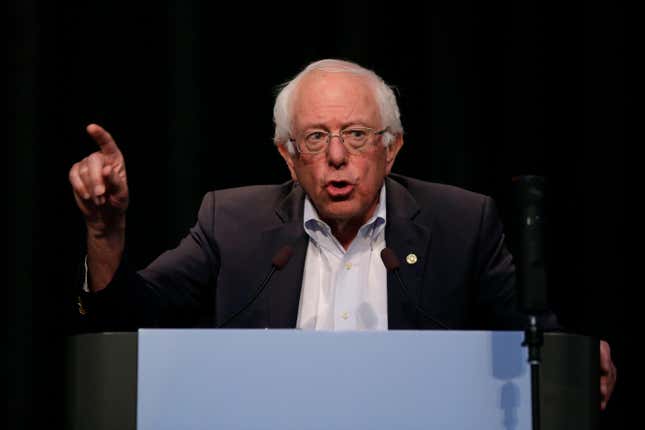 Most candidates push criminal reform packages that often lack the requisite muscle to make a dent in a system that warehouses black and brown people with reckless abandon. But Sen. Bernie Sanders' plan to tackle some of the more contentious elements of the criminal legal system is just as radical as his economic policies—starting with qualified immunity.

Tackling A Black Maternal Health Crisis & Embracing Reproductive Justice | The Root Institute
Sanders joins former Housing and Urban Development Secretary Julian Castro as the only two Democratic candidates to tackle qualified immunity, a federal doctrine that protects police officers from civil liability from actions conducted while on duty, especially in cases where they kill someone. Limiting the doctrine in cases of deadly force would compell officers to think twice before pulling the trigger or severely harming people, experts say. It is a very bold move that will surely have police unions up in arms because it strips them of a key layer of protection, shielding them from legal prosecution.
Moreover, Sanders is also pushing for a ban on the use of facial recognition software for policing and establishing a federal no-call policy that will prevent federal cops with poor service records from providing testimony that can lead to criminal convictions. His plan also calls for the legalization of safe injection sites and needle exchanges, which would help to decriminalize drug use and distinguish it from drug dealing.
In Sanders' second run for president, he appears to be strengthening his positions on key issues that will persuade black voters that he is the candidate for them. The campaign released a video, exclusive to The Root, of Sanders speaking with young black and brown people in Miami about their issues with policing, healthcare and student debt. Facilitating the conversation was Phillip Agnew, co-founder of Dream Defenders and a national surrogate for the Sanders campaign. At 8:24 into the video, Agnew discussed the for-profit prison system in his home state of Florida. An African-American man told Sanders and the rest of the small group that, out of 10 of his friends, only two of them don't have an arrest record or any charge.
"Say that again?," Sanders asked.
"Ten friends who grew up together?," Sanders asked.

"Yes," the young man answered. "Only two have never been to jail. Misdemeanors and me included." He added that the misdemeanor charge cost him $3,750.
"Just to become a teacher, I had to pay the Florida Department of Education a fee every month for drug testing. I had to pay a fee for substance abuse counseling for a misdemeanor of marijuana."
Sanders has always performed well with young voters of color and, in at least 27 states, voters under 30 supported him with a slim majority in 2016. The campaign is hoping that his criminal justice platform helps to attract more of them to the polls in 2020 to compete in a fiercely competitive pool of candidates that include two popular black senators in Kamala Harris and Cory Booker and, so far, a very popular Joe Biden who is currently attracting the most black support of anyone in the Democratic field.
"I don't think this is an election in which older folks are going to sit back and think, 'this is something only younger people care about,'" said Agnew. "We're far beyond that and I think the criminal justice platform like the one he puts forward not only reaches the generation that suffers from the war on drugs but also that generation that saw the war on drugs come into their communities that's affected the children, the grandchildren, but also the parents. I think they are looking for a platform that begins to repair the wrongs of the war on drugs."
Since 2016, Sanders has been recalibrating his ideological outlook on criminal legal reform. In 2017, for example, The Root reported on his Senate federal cash bail bill, as well as his sitdown with Philadelphia District Attorney Larry Krasner to learn more about how progressive elected officials are addressing criminal legal reform at the local level.
His conversation in Miami with young people of color is an extension of the public engagement he's made over the years, admittedly, with some criminal justice legal policies that have some actual teeth. The Root was at the Charles H. Wright Museum of African American History, in Detroit, watching the second primary debate with a mostly black audience who all very much were won over by Sanders' performance. As I wrote that night, Sanders is likely the person to beat in Detroit and the rest of the state, with Harris and Warren not too far behind.
He'll need every black vote he can get in this primary pool, but it seems like his engagement with young activists on the ground and their efforts to push his messaging through to older voters may prove to be formidable when Super Tuesday rolls around.