As the nation mourns the death of civil rights warrior Benjamin Hooks, who lead the NAACP from 1977 to 1992 as executive director, it's easy to forget one important thing that distinguished him from many civil rights leaders: his close ties to the Republican Party.
It was under a Republican administration — Richard Nixon's — that Hooks served for five years as the first black chairman of the FCC, starting in 1972. During his tenure at the FCC Hooks pushed for more minority leadership of media outlets. Minority employment in broadcasting grew from 3 percent to 15 percent during his tenure, according to the Associated Press.  
Hooks helmed the nation's oldest civil rights organization through the GOP-dominated Reagan and Bush 41 years.  "He was the one who stood up, as a Republican, to Ronald Reagan, to corporate leaders and told them they needed to finish the job, and desegregate their boards, desegregate their vendors, desegregate their executives and middle management," NAACP president Benjamin Jealous told The Root. "[He was responsible for] dozens of fair-share agreements. Many have said he was responsible for more black millionaires than any other person because of what he did to break the locks on corporate boardroom doors."
In 2007, Hooks received the nation's highest honor - the Presidential Medal of Freedom - from Republican president George W. Bush. But given the shrinking support for moderates within the GOP, would there be room for a Benjamin Hooks today within the party?  
"It's significant that we've lost one of our few remaining black Republican civil rights leaders," observed Jealous. "His passing, I hope, will serve as a wakeup call and reminder to the remaining moderate leadership in the party, people like Michael Steele, that civil rights needs to be [on] a bipartisan agenda and that their party cannot again be permitted to continue march backwards on race relations and civil rights."
G/O Media may get a commission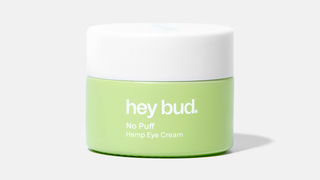 15% off
Hey Bud - No Puff Hemp Eye Cream
Hooks let us know what we really should be getting back to in a speech during the NAACP's 100th anniversary celebration last July:
"Let us stop fighting with one another and working with one another. Let us not antagonize one another, but love one another. Let us not point fingers of division and discord at each other. Rather, let us band together, moving toward a better America.
"When we move forward, when we say God Bless America, let us mean it! When we say, 'land where my parents died,' let us mean black, white, yellow, brown, male, female, Christians, Jews, Muslims, Buddhists, and all others who believe in the ultimate justice and power of God, and those who believe in rights and justice for all regardless of religious affiliation. We shall either stand together as sisters and brothers or perish separately as fools."
Sheryl Huggins Salomon is deputy editor of The Root.
Sheryl Huggins Salomon is senior editor-at-large of The Root and a Brooklyn, N.Y.-based editorial consultant. Follow her on Twitter.