Strength. Loyalty. Dignity. Courage. Those are the four words that adorn the soles of the new HFR x LeBron 16 sneaker by Nike, based on the words of King James himself.
Inspired by the women in his life, Lebron James' first women's basketball shoe was both female-focused and predominantly female-designed: to reenvision the LeBron 16 for a fashion-forward female audience, Nike's global basketball footwear designer Meline Khachatourian and James' footwear designer Jason Petrie were paired with three black women designers hand-selected by Harlem's Fashion Row founder Brandice Daniel: womenswear designers Undra Celeste, Kimberly Goldson and Fe Noel.
"I believe that African American women are some of the strongest people on earth. I grew up around some amazingly strong women and am inspired by the strength I see around me, including my mom, wife and daughter ... Being the son, husband and father of strong African American women, I felt like this was something I wanted to do for them and for all the strong women out there who are succeeding despite what might be stacked against them," said James on Nike's site.
For the designers, that sentiment rings especially true; all three helm established but still relatively underground labels—a struggle faced by far too many women of color in the fashion industry. For small businesses like theirs, it's been a dream come true to show with Harlem's Fashion Row—let alone collaborate with a cultural and retail behemoth like Nike.
G/O Media may get a commission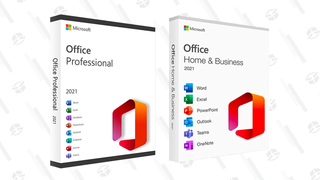 89% off
Microsoft Office Professional 2021 Lifetime License
"I never thought that something like this would come from it, to be honest," Noel told The Glow Up. "It opens new doors for us. But I never dreamed of this—you never think, 'okay, you're going to partner with Nike.' Like, I just didn't see that coming."

James himself explained his vision and inspiration to the designers, and an instant empathy developed between them.
"We each had something that connected the four of us based on what LeBron saw from his mom, and the sacrifices she made for him," Goldson told Nike. "My mom did it. LeBron's mom did the same for him. The connectivity was there between all of us."
Using a roaring lion's head motif and gold and leather accents—including multipurpose belt-like bracelets around the ankles—the HFR x LeBron 16s are truly unlike anything else we've ever seen—and admittedly, reviews have been mixed.
Describing the finished product, Nike wrote on its YouTube page:
"The women of Harlem's Fashion Row paired the durable Battleknit 2.0 upper with regal gold highlights, interchangeable straps and a crown that doubles as a bracelet to create a symbol of the ever-enduring strength of women of color."
But even if the aesthetics aren't for everyone (what ever is?) the story behind this collaboration and its creators, documented by Nike in two surprisingly emotional videos, is nothing short of inspiring.
Black women who strive to do something they've never seen done know all too well what it means to be the "first." But coming first—in inspiration and inception? That's something we could definitely get used to.
The Glow Up tip: The HFR x LeBron 16 will be available in the U.S. on Friday, September 7 via the SNKRS app.