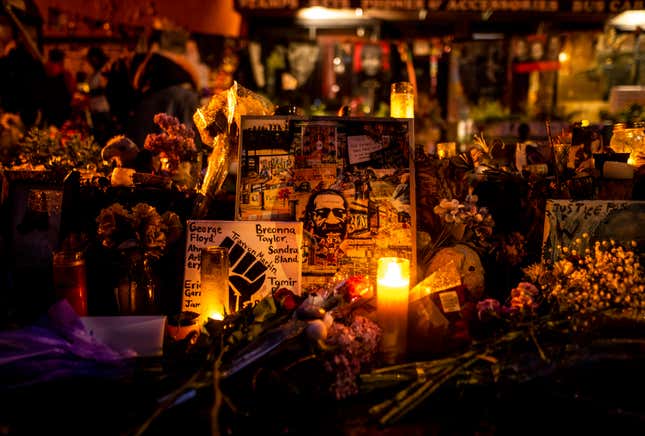 Disgraced former police officer Derek Chauvin was sentenced to 21 years in prison last year. But we're still grappling with more allegations of his rampant abuse of the Black community in Minneapolis. The Minneapolis City Council unanimously voted to pay $8.9 million to settle lawsuits brought by two Black Minneapolis residents who say Chauvin pressed his knee into their necks years before he killed Floyd.
This Juneteenth We Revisit The Anderson .Paak BLM Track "Lockdown"
The two victims in these lawsuits are both Black. John Pope Jr. will receive $7.5 million, and Zoya Code will receive roughly $1.4 million. The cases were related to arrests Chauvin made in 2017 — three years before Chauvin killed Floyd, sparking a racial reckoning with policing in the United States. Pope's lawsuit referred to Chauvin as a "serial predator," and alleges that the city's decision to look the other way allowed Chauvin to "stay on the force long enough to murder George Floyd." Chauvin admitted to many of the allegations in Pope's lawsuit when he pleaded guilty in 2021.
These incidents were caught on police body cameras. However, at the moment, neither victim has asked that the videos be released. The contents of the lawsuits themselves are still alarming. (Trigger warning: the following paragraphs contain graphic depictions of police brutality.)
Pope was just 14 years old when he encountered Chauvin. According to the lawsuit, Pope's mother called the police, asking them to remove her son and daughter from home after an incident related to unplugging phone chargers. She told police that her son had "grabbed her" and attempted to "wrestle her or whatever."
The incident appeared to have calmed down when officers arrived around 8:45 pm. Pope was lying on the floor of his bedroom, quietly using his phone, when another police officer entered, telling him he was under arrest. According to the lawsuit, Pope tried to tell the officer that his mother was drunk and had assaulted him, but the other officer grabbed Pope's wrist. Chauvin then entered Pope's bedroom and allegedly struck Pope twice over the head with a large metal flashlight before choking him until he was unconscious.
According to the lawsuit, after Pope regained consciousness, Chauvin kept his knee on Pope's neck and back for 15 minutes despite the 14-year-old's cries that he couldn't breathe. He ended up needing stitches from the blows to his head from Chauvin.
In the case of Zoya Code, according to the lawsuit, her mother called the police alleging that she'd attempted to strangle her with an extension cord. Code left the home only coming back after police arrived. After an altercation with police inside the home, Chauvin allegedly carried Code outside. According to the lawsuit, he then slammed her head into the ground and kneeled on her neck for several minutes. Chauvin and another officer went to get a device known as a "hobble" that restrains a person's legs to their waist. Even though she was completely immobilized, the lawsuit alleges that Chauvin continued to press on her neck for over a minute.
An attorney for Code and Pope says this is about much more than just one police officer. "The easy thing is to blame Chauvin for everything," said Bob Bennett, the attorney for Pope and Code, in a statement obtained by CBS. "The important thing that the video shows is that none of those nine to a dozen officers at the scene ever reported it, ever tried to stop it. They violated their own policy and really any sense of humanity."
The city of Minneapolis has been making some attempts at police reform. Earlier this month, the city signed a binding agreement to "transform" its police department. But stories like these highlight just how broken policing in Minneapolis has been over the years and the lack of accountability that led to Floyd's death.