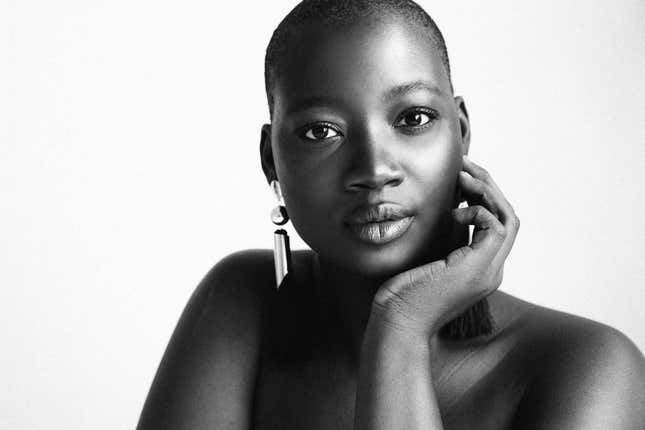 It is with profound sadness that The Glow Up learned today that one of our favorite models and activists, Cacsmy "Mama Cax" Brutus, has died at age 30. Fondly called Cax by her colleagues and clients in the fashion industry, the Haitian American broke new ground as an in-demand model who'd survived cancer as a teenager, resulting in the amputation of her right leg. Rebuilding her life, Cax became a blogger, advocate and motivational speaker, proudly wearing her prosthesis on runways and in campaigns for Tommy Hilfiger, Olay, Chromat, Rihanna's Fenty Beauty and Savage X Fenty. Represented by inclusive agency JAG Models, Cax also graced the cover of Teen Vogue in 2018, was named one of Glamour magazine's 2019 "Women of the Year All Year."
America's Got Talent Host, Terry Crews, Shows Full Gratitude For Writers On Strike
Notably, she was also the first model interviewed by The Glow Up when we launched in November of 2017.

Mama Cax Redefines the Runway
As her agents at JAG told The Glow Up, Cax was in London for a modeling assignment when she experienced sudden pain, eventually being hospitalized for several blood clots discovered after her transatlantic flight. Last week, Cax shared the frightening experience with her 185,000 Instagram followers, writing:

Y'all 2019 has been one of the best years for me , cannot deny it! but 2019 also tried to take me out 😩

I was gearing up for a wonderful couple of weeks went from celebration an anniversary with bae in Serbia, flew to NY for a quick job then had a quick shoot in London before heading to L.A to celebrate a fruitful yearlong partnership with my #sephorasquad family.

While in London I started experiencing severe abdominal pain and was rushed to the emergency room- they dismissed it as an inflammation and sent me back to my hotel with some pain meds.

The next morning it got worse, while barely conscious, I asked the hotel to call me an ambulance. They discovered that I had several blood clots in my leg, thigh, abdomen and near an IVC filter near my Lungs (which is a medical device that prevents clots from entering the lungs.) up until this emergency visit I had no idea I had such filter (which I assumed was placed there during my chemo days 14yrs ago) - nonetheless this filter saved my life.

Lots of unanswered questions which I'll have to figure out once I'm back to the States but I'm finally out of the hospital, in less pain, resting and taking blood thinners.

Unfortunately flying puts me at risk of a pulmonary embolism therefore I'm stuck across the pond until after Christmas. Hope y'all are gearing up for a wonderful holiday season.
Unfortunately, following her release from the hospital, Cax was found unresponsive in her London hotel room on Monday, December 16. Her death was announced on social media on Friday morning by her family.
Cax's JAG family (of which, full disclosure, this writer is also a part) is also in mourning, sharing the following statement via email:
This week we lost a leader, a hero, a visionary, a warrior, a boss, a hero, a sister, a friend. Whatever you called her, Cax was a force. Her strength, sense of humor, humanity, beauty and her fierce determination were what made everyone who came in contact with her lift their head and smile a little bigger. Never one to back away from a challenge or an adventure, Cax attacked life and savored every minute of it. She shared her love of life with her family and friends and the only thing more inspirational than all of these descriptors was her unbelievable generosity. Cax shared herself, the good, the bad and everything in between. She shared her successes as well as her challenges and she did it always dressed to the nines. She shared her story which encouraged others to do the same and will continue for all eternity.
As for The Glow Up, we will continue to be inspired by Mama Cax, who was as much an inspiration as she was a beauty—and was always fierce, inside and out. Most importantly, we'll remember her platform of radical, unconditional self-love, as she recently reminded her followers.
"I read somewhere that pretty is not the price you pay to exist on this earth and when I talk about body positive it's more than the surface," Cax wrote on Nov. 21. "I always remind my audience that their bodies allowed them to get to work and at the end of the day it will take them home to their loved ones, isn't that enough to appreciate it. And whoever you are if you're not ready to love your body for how it looks, admire it for how far it's gotten you."

Rest in power, Cax.
Updated: Monday, 12/23/19 at 12:20 pm, ET: Among the many tributes that have poured in since Cax's death was made public—including from Glamour, Tommy Hilfiger, Olay and Chromat, included above—Rihanna, who cast Cax in her Fall-Winter 2019 Savage X Fenty fashion show, posted the following message to her personal Instagram account on Saturday with the following caption:
A queen. A force. A powerhouse beauty that brought her strength to the @savagexfenty stage this year inspiring so many across the globe. Rest In Power sis ✊🏿😢