Baltimore City State's Attorney Marilyn Mosby, who charged six police officers in connection with Freddie Gray's death, has had to increase her security detail after she reportedly received hate mail and threats at her office.
"Our office has received, and she has personally received, a number of offensive and extremely disturbing, racist, sexist hate mail and even death threats," Baltimore City State's Attorney's Office spokeswoman Rochelle Ritchie told WBAL.
According to the news station, several threatening emails have been sent to Mosby, including from an emailer who sent fake news stories reporting the deaths of Mosby and her husband, Baltimore City Councilman Nick Mosby.
"Marilyn Mosby was gunned down in cold blood walking into the courthouse. Not one officer came to assist. A police statement simply read, 'Sucks to be her.' Nobody will miss that [expletive]," the first fake news story reads.
WBAL notes that the second fake story describes the torture and dismemberment of Nick Mosby.
G/O Media may get a commission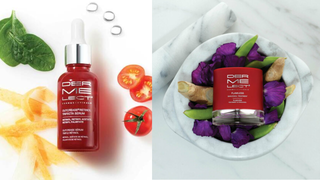 Save $19
Retinol Renewal Kit
"Police issued a statement, 'The death of Mr. Mosby does not appear to be suspicious. Several family members related to Mr. and Ms. Mosby have been reported missing. Police feel none of the missing are significant. Hope you've enjoyed reading,'" the second fake news story reads.
"I know Marilyn is upset because she is only human. She is a young mother," Tessa Hill Aston, president of the Baltimore branch of the NAACP, told WBAL. "These people hate black people, No. 1, and there are a lot of people who don't think a woman should be in that position."
Other threatening emails read:

YOU are a racist criminal! YOU are a worthless racist [expletive]!

She is a skum [expletive] …You useless [expletive].

You are out of your mind. When the violence starts and they turn their anger on you, maybe the officers will be a little slow to react. You are a cop hater. Marilyn Mosby is nothing but a [expletive] Black Panther [expletive]. She should be hung.
"This is unbelievable, and it's absolutely unacceptable. Anybody who would author these kinds of attacks needs to be prosecuted to the highest extent of the law," Baltimore City Delegate Cheryl Glenn told the news station.
State's Attorney's Office spokeswoman Ritchie told the news station that direct threats made against Mosby are being investigated, and that while Mosby wants to speak about the hateful correspondence that she's received, she is prohibited because of a court-imposed gag order in the trials of the officers charged in the in-custody death of Freddie Gray.
"State's Attorney Marilyn Mosby will not be deterred by these attacks. She is going to continue to pursue justice," Ritchie said.
Read more at WBAL.