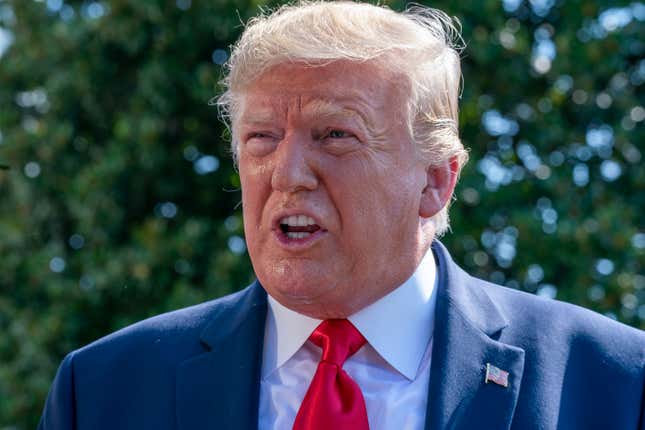 The Leader of the (allegedly) Free World is once again circulating baseless conspiracy theories—this time concerning the death of disgraced financier Jeffrey Epstein, a convicted sex offender who was accused of operating a global sex-trafficking ring in which underage girls were sexually abused and raped.
Fighting "Lie-abetes": How To Spot And Combat Disinformation and Conspiracies In Politics | The 411: Part 2
In this case, Trump retweeted "comedian" and Trump supporter Terrence K. Williams, who lay the blame for Epstein's death at the feet of the Clintons, with whom Epstein once had a friendly relationship (as he did with Trump).
"Died of SUICIDE on 24/7 SUICIDE WATCH ? Yeah right!" Williams tweeted, erroneously. "#JefferyEpstein had information on Bill Clinton & now he's dead."

The Twitter post includes a video of Williams in which he concludes, "word on the street is the Clintons did it. But I don't know nothing. I'm just another Black man on Twitter."
Well, he was right about one thing, at least.
The post was intended, in part, to combat a hashtag that had been trending on Twitter, #TrumpBodyCount, and replace it with the Clintons.
Trump's idiot son, Don Jr., also followed suit, whining that Twitter wasn't promoting "Clinton Body Count" as it should—in essence, that "baseless accusations of murder aren't being adequately disseminated," the Atlantic's Adam Serwer pointed out.
Given the circumstances of Epstein's suicide—and the powerful political circles the financier ran with during the height of his power—Trump & co. were far from the only ones wildly speculating about his death.
Trump himself had been friendly with Epstein for a time. From NBC News:
Epstein's circle of powerful friends and acquaintances at one time included Trump, as they were both fixtures on the glitzy Palm Beach social scene. More than a decade before Epstein pleaded guilty to felony prostitution charges in Florida, they both appeared in footage filmed by NBC at Trump's Mar-a-Lago estate, now a private club. The two wealthy men are laughing and pointing as they appear to discuss young women dancing at a party.
Epstein also had a relationship with the Clintons, among many other politicians. He visited the Clinton White House in the 1990s, and Bill Clinton had taken several trips with Epstein on his private plane in 2002 and 2003.
Like Trump, Bill Clinton recently claimed he hadn't spoken to Epstein in more than a decade, and "knows nothing about the terrible crimes," according to an official statement shared with the New York Times.
Prosecutors allege that, from at least 2002 through 2005, Epstein sought out minors as young as 14 as part of a sex-trafficking ring, sexually abusing them in his Manhattan townhouse or his Palm Beach, Fla., estate. Recent unsealed documents name New Mexico Gov. Bill Richardson (D) and former US Sen. George Mitchell (D-Maine) among the politicians who allegedly participated.
The multimillionaire financier attempted to kill himself three weeks earlier and had been placed on suicide watch prior to hanging himself in a Manhattan jail cell on Aug. 10. But as the New York Times reports, Epstein had been taken off suicide watch 12 days before his death, for reasons that "remained unclear:"

One federal prison official with knowledge of the incident confirmed Mr. Epstein had been taken off suicide watch recently and was being held alone in a cell in a special housing unit. The official, who spoke on the condition of anonymity for fear of being fired, said guards found Mr. Epstein in an otherwise empty cell during morning rounds. He had hanged himself and he appeared to be dead.

It would have been extremely difficult for Mr. Epstein to harm himself had he still been on suicide watch, a second prison official said, also speaking on the condition of anonymity for fear of dismissal.
As the Washington Post notes, prison suicides are far from unusual: hundreds of people kill themselves under state custody every year, and the rate of suicide behind bars is 3.5 times higher than that of the general population.
Epstein's victims will never get to face him in court; his death a final subversion of the justice they are owed. They're all but lost in this current circle of accusations and rumor-mongering amplified by a sitting U.S. president.
The elite social circles Epstein ran in, the amount of wealth, privilege, and secrets he amassed, and the gruesome crimes he's accused of committing mean his death would have always been greeted by skepticism, and a certain degree of macabre fascination by the general public. But the president, once again, is not supposed to appeal to the basest of our instincts. A president is not supposed to actively disseminate baseless accusations (in this case, murder) against his political enemies—a version of propaganda that has proven actively, demonstrably harmful when we look at the current wave of domestic terrorism hitting the U.S.
And yet, here we are.