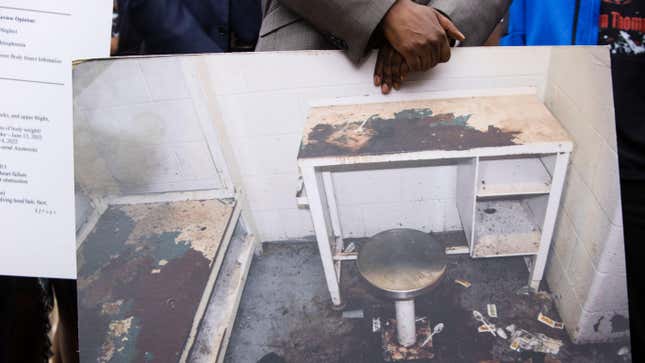 The family of LaShawn Thompson, the man who who died in Fulton County Jail after he was allegedly "eaten alive by insects and bed bugs," had an independent autopsy conducted to find out the cause of death. According to the results, Thompson died of "complications due to severe neglect" and his manner of death is listed as "homicide."
Terry Crews Talks AGT, Hidden Talents, & Falling For A White Chick
The report also states that "dehydration, malnutrition, severe body insect infestation" and "untreated decompensated schizophrenia" were conditions that led to his death on September 13, 2022 in the Atlanta jail. During Monday's press conference outside the Georgia State Capitol alongside attorneys Ben Crump and Michael Harper, Thompson's family expressed their anger and grief.
"It's enough that the bed bugs and lice sat there and ate my brother to death, but it's the neglect that hurts me the most," Brad McCray, the victim's brother, stated. "These images all over the internet, all over the media. It's disturbing. It's horrific. And it's a big impact on my family," he continued.
Crump added: "There is no question this was criminal negligence." Harper disclosed that Colin Kaepernick's Know Your Rights Camp nonprofit organization paid for the independent autopsy. Kaepernick, the former San Francisco 49ers player who has become known for his social justice work, made the offer after the previous autopsy released by the Fulton County Medical Examiner's Office listed Thompson's cause of death as "undetermined."
Jail records show that Thompson was arrested on June 12, 2022, for simple battery against police officials.