Capitol Hill Reporter to Succeed Liane Hansen
Audie Cornish, a reporter and substitute host for NPR since 2006, has been named the new host of "Weekend Edition Sunday," NPR announced on Thursday.
Justice Smith Talks New Dungeons & Dragons Movie, The Get Down On That's So Random
She "will be the new voice of Sunday mornings for millions of public radio listeners beginning this fall. Liane Hansen, who has been hosting Weekend Edition for more than 20 years, announced her retirement last year and will broadcast her final show on Sunday, May 29," an announcement said.
Cornish's appointment represents a major assignment for a black journalist at a network that is struggling with diversity issues.
Ellen McDonnell, executive director of news programming for NPR, said in the announcement: "Audie is an outstanding journalist and a wonderful storyteller. Audiences will connect with her warmth, curiosity and humor. We're thrilled she is taking on this new role."
G/O Media may get a commission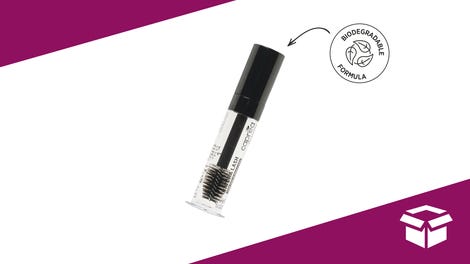 It's $8
20% Off Lash + Eyebrow Serum 2.0 - Caprea Beauty
"I'm honored and excited to follow in Liane Hansen's footsteps," Cornish said in the release. "She has made Weekend Edition essential in the lives of millions of NPR listeners."
The NPR statement continued:
"Cornish has solid experience as both a news and feature reporter. She is a familiar voice in public radio, where she has been reporting for ten years, first for Boston member station WBUR and then NPR. She's been covering Capitol Hill since 2009; before that, she was on the campaign trail reporting on the 2008 Presidential election. She also spent three years covering the south for NPR, from a base in Nashville. Whether sharing the stories of Hurricane Katrina survivors, engaging with voters on the campaign trail or reporting on the complex details of this year's Congressional budget debate, Cornish has demonstrated her tremendous talent. In recent years she has been a frequent guest host for 'Weekend Edition Sunday,' 'All Things Considered' and 'Tell Me More.'
"Before coming to NPR, Cornish was a political reporter for WBUR covering many of the region's major news stories, including the legalization of same sex marriage, the sex abuse scandal in the Catholic Church and the 2004 Democratic National Convention. Her 2005 report on the achievement gap in Boston public schools earned her first prize in the National Awards for Education Writing. She got her start as a general assignment reporter for the Associated Press in Boston."
"Daryl Hawks, an NBCChicago sports anchor since 2008 died this morning in Atlanta," Andrew Greiner reported for the station, WMAQ-TV.
"He was there to cover Game 6 of the Bulls vs. Hawks game. The cause of death is unknown at this time.
"Hotel employees discovered him in his room at approximately 9:30 a.m. after he missed a wake-up call. He was rushed to an area hospital, where he was pronounced dead.
" 'We are all stunned right now. Daryl was a great member of our sports team, and was so excited about covering the Bulls during this playoff run,' said Frank Whittaker, Station Manager and Vice President of News.
"Hawks was 38 years old. He was a three-time Emmy Winner and former Marine.
"He leaves behind a wife, Sandy, and two children." 
"The day after Bossip caused virtually the entire Internet to throw up at once, the black gossip website's chief executive is standing by her decision to publish photographs of a miscarriage," Maria Elena Fernandez, former television writer for the Los Angeles Times, wrote Wednesday for Newsweek/the Daily Beast.
"Model Esther Baxter gave Bossip an exclusive interview to discuss how, she says, rapper Joe Budden, her ex-boyfriend, beat her and caused her to miscarry their child. Bossip published the video of the interview Monday, along with copies of a police report, photographs of Baxter's physical injuries — and three gruesome photographs of the fetus.
"Bossip eventually took down the miscarriage photos, but not before Baxter ranted on Twitter about the invasion of privacy, and many of the site's readers left comments calling Bossip's editorial decision 'revolting' and 'unnecessary.' "
Bossip, part of Moguldom Media Group, whose other websites include the Atlanta Post and hiphopwired, is one of the top-ranked sites catering to African Americans, according to the comScore research company. Bossip recorded 1,460,000 unique visitors in April, compared with 2,892,000 for MediaTakeOut.com, 1,625,000 for AOL's Black Voices sites, 1,544,000 for BET.com sites and 842,000 for blackplanet.com.
"The controversy erupted just days after U.S. officials debated distributing the Osama bin Laden death photos," Fernandez continued. "And a documentary, 'Unlawful Killing,' being released at Cannes this week will — for the first time —show footage of Princess Diana as she was dying. Which raises the question: Have taste and restraint gone the way of the dinosaurs?
"On Bossip, which . . . boasts the tagline 'Gossip for the Hardcore,' the answer is yes, says Chief Executive Marve Frazier.
" 'It was what it was. If the images are graphic, the images are graphic.'
" 'We weren't thinking editorially or had any intention behind it,' Frazier said. 'We just decided to put everything up that was sent to us — that we had obtained for the particulars of the story. It wasn't like we were asking for pictures of the fetus. There were only three on the site. We received quite a few and they were pretty disgusting. The ones you saw weren't even the half of it, honestly.'
" . . . In the end, Frazier took down the photographs out of concern that there would be an advertiser backlash — not because she regretted her initial decision."
* Stacia L. Brown, theLoop21.com: Budden, Baxter and the Ubiquity of Emotional Abuse in Hip-Hop
* Zerlina Maxwell, theLoop21.com: On Baxter vs Budden: Blaming the Victim Is Still In Style
* Emma Bazilian, AdAge.com: Columbia J-School Report: Journalists Don't Understand Advertising
* Collin Tong, International Examiner: Shifting focus, same principle in urging journalist's release