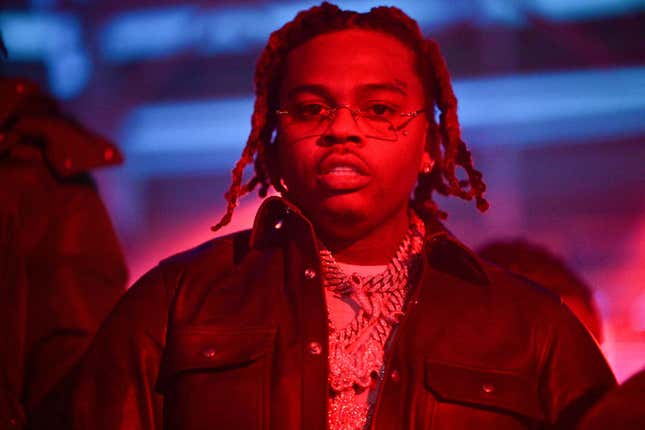 Nearly five months after popular Atlanta rapper Gunna was released from jail, he still can't beat the "snitch" allegations that have plagued him in the hip-hop community.
MAC'S Whitney Houston Make Up Collection Is Our Swag Of The Week
It's been a controversial topic among fans of Young Thug, Gunna and YSL. The "pushin' P" rapper was among the most popular artists in the genre before he was indicted on RICO charges. But since he's returned, some fans of his have argued that they should never listen to Gunna again because he "snitched" on YSL leader Young Thug. Gunna has also been quiet musically, not releasing any new songs or tracks for his fans to consume. He's only been featured on one song, "BRODIES" by Ufo361, who is a German rapper.
But on Tuesday, the DRIP SEASON 4EVER MC finally seemingly addressed the allegations in a song he teased on social media.
In the 40-second snippet, he can be heard rapping, "He forgave me for my sins now they mad that I got out," seemingly implying that hip-hop fans are just angry that he was released from jail.
Fans and rappers alike, including Lil Durk, have been at Gunna's neck, claiming that he snitched on Thug to free himself. In a recent interview with DJ Akademiks, Durk said, "That man told. You should've went in there and kept your mouth closed. If you a rat, I fuckin hate you. Cause I love Thug."
But from the moment that Gunna was released, he's claimed that he has no intention of being in the trial process in "any way."

In a statement that was put out the day he was released, Gunna stated, "While I have agreed to always be truthful, I want to make it perfectly clear that I have NOT made any statements, have NOT been interviewed, have NOT cooperated, have NOT agreed to testify or be a witness for or against any party in the case and have absolutely NO intention of being involved in the trial process in any way."
Gunna was released on an Alford plea, which allows the Atlanta rapper to plead guilty on one charge because it was in his best interest while maintaining his innocence on the same charge.