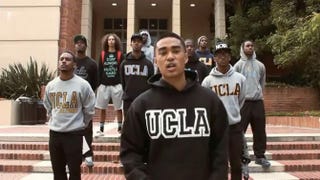 The University of California, Los Angeles, has a diversity problem, and some students aren't going to let it rest without speaking up.
Sy Stokes, a third-year student at UCLA, posted a video to YouTube last week highlighting the lack of diversity on campus. Stokes and a few other black men at the campus showed signs with "2,418" written on them to represent the incoming number of male freshman students. Another held up a sign that said "45" to show how many of those incoming freshman males were black.
Stokes told the Daily Bruin that he almost dropped out of college during his first year because of how alone he felt as a black student.
"[That feeling)] makes [black people]stick to their comfort zones because they want to feel safe—physically and emotionally," Stokes said.
School statistics show that black undergraduate students make up only 3.8 percent of the total population. However, according to Stokes' video, blacks only make up 3.3 percent of the male population—and yet 65 percent of them made up undergraduate student athletes.
Read more at the Daily Bruin.