As feminist activists and allies across the country prepare to join the third wave of Women's Marches in as many years on Saturday, a well-publicized shadow has been cast over the event. The concern? Longstanding accusations of anti-Semitism and exclusion within the ranks of the Women's March, with national co-president Tamika Mallory at the center of the controversy. While Mallory has repeatedly and publicly addressed the concerns first raised nearly a year ago, they've compounded in recent months, as new allegations have surfaced.
"When you have a lot of different people in a space and everyone is carrying the trauma of their community, the trauma of their past, trauma of their daily circumstances, everything becomes a trigger," Mallory told The Glow Up. "And so, that's what I feel is at the foundation of all of this. And then, I think you have the layers of historic issues around litmus tests for black leaders and this infantilism that says 'if you don't do things exactly as you are told, then you don't qualify as a leader.' And that has existed since the beginning of time."
Nevertheless, the issues have caused several local chapters in the embattled organization's distributed network, including Chicago, to cancel planned marches, with unaffiliated events planned in their place. In New York City, a competing event is planned. Other chapters, like Women's March Washington State, have announced plans to dissolve, post-march.
And as recently as Tuesday, the Daily Beast reported a loss of over half of 2018's event partners, including the Poverty Law Center, political action committee EMILY's List, the Human Rights Campaign, pro-choice organization NARAL, Center for American Progress and Amnesty International.
Most noticeable is the sudden removal of the Democratic National Committee from the Women's March sponsors' page, despite being listed as recently as Sunday. The DNC offered no specific explanation for their sudden withdrawal from the event. However, the Daily Beast surmised the distancing likely occurred as the result of a very tense Monday appearance by Mallory and Women's March co-president Bob Bland on ABC daytime talk show The View, which revived questions about Mallory's relationship with Minister Louis Farrakhan.
G/O Media may get a commission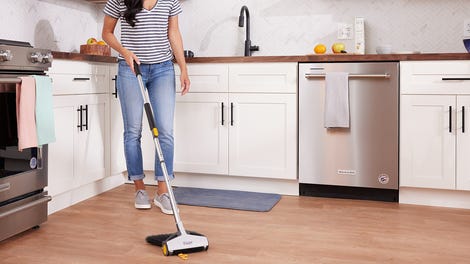 BOGO 50% Off
Flippr - BOGO 50% Off
Former DNC chairperson, Rep. Debbie Wasserman Schultz (D-Fla.) published an op-ed in USA Today on Friday morning, explaining why she wouldn't be participating in the march this year and lauding those chapters that had opted to distance themselves from national leadership.
"It's clear that the leadership of the march has yet to cut ties with those who promulgate hate and anti-Semitic rhetoric. Until it does, I cannot stand alongside it," she wrote. "Faced with two choices, staying silent while refusing to join the national march, or speaking out, I choose to speak out. Women have been forced to stay silent for too long, and we must demand the same principles from our movement as we do from our society."
On its face, the initial conflict stemmed from Mallory's attendance at the Nation of Islam's annual Saviour's Day in February 2018; an event she admits to regularly attending most of her life. In this instance, her presence was preceded by a social media post in which she praised and posed with Farrakhan, calling him the "G.O.A.T." (Greatest of All Time). It was an association that understandably raised the ire of many familiar with the leader's anti-Semitic, anti-feminist, anti-LGBTQIA teachings.
"I didn't call [Farrakhan] the greatest of all time because of his rhetoric," Mallory clarified on Monday, in response to The View co-host Sunny Hostin's question about the post. "I called him the greatest of all time because of what he's done in black communities."

It was a topic Mallory had already addressed at length in a March 2018 op-ed for News One. In it, she discussed the nature of her connection to Farrakhan and in particular, the women of the Nation of Islam, who provided her much-needed support following the murder of her son's father. Mallory also addressed the impact of the association upon the national, intersectional community she's now chosen to serve, writing, in part:
I have heard the pain and concerns of my LGBTQAI siblings, my Jewish friends and Black women (including those who do and those who don't check off either of those other boxes.) I affirm the validity of those feelings, and as I continue to grow and learn as both an activist and as a woman, I will continue to grapple with the complicated nature of working across ideological lines and the question of how to do so without causing harm to vulnerable people.
Mallory, a protégé of Al Sharpton, was insistent her attendance was not a reflection of her personal values, but her own version of intersectional work within the black community. It was work she'd been doing for decades before being called to co-lead a feminist movement.
Speaking with Melissa Harris-Perry for Elle, Mallory said, "Other people are obsessed with my relationship with Minister Farrakhan. I am obsessed with empowerment in the black community."
But clearly, the intersectionality of feminist work at a nationally visible level demands different considerations. Those considerations have continued to challenge the leadership team of Mallory, Bland and board members Carmen Perez and Linda Sarsour; particularly as new accusations surfaced at the closing of 2018, suggesting the anti-Semitic smear on the reputation of the Women's March could be traced to the organization's founding.
The source of the renewed allegations? An investigative report published in December by Jewish news source Tablet magazine, "Is the Women's March Melting Down?" Specifically, the report cited charges by OkayAfrica co-founder and former Women's March leadership member Vanessa Wruble, who, along with others initially involved with the march, claimed Mallory and Perez made anti-Jewish remarks during an early-stage 2016 organizational meeting.
The View co-host Meghan McCain referenced Tablet's report to confront Mallory during Monday's episode. Paraphrasing Wruble's claim, McCain aligned herself with those who have accused Mallory and her co-chairs of using the Women's March organization as "anti-Semitism masked in activism."
Both Bland and Mallory unequivocally denied the claims, as they had in Tablet's report. McCain then took specific issue with the fact that conservative women have yet to be included in the organization's agenda or leadership. Mallory and Bland once again stated that the organization was open to all aligned with its purpose. Speaking with The Glow Up, Mallory again made it plain:
"The organization is inclusive of all women who understand and respect the agenda," she said. "If people can get behind the agenda that we have and the [Unity] Principles that we share, then they are welcome to participate in the organization."
And yet, the discord has persisted for some once affiliated with the movement at large. Aside from Wruble, who also gave an interview to the New York Times in December, there is Teresa Shook, the Hawaii-based member of Facebook group Pantsuit Nation often credited with originally proposing the idea for a march. In November, Shook called for the resignation of the current leadership.
Then, there's veteran black activist and former president of the Washington, D.C. Women's March local chapter, Mercy Morganfield, who has been one of the most vocal critics of the current leadership. blasting them on social media. Notably, in response to Shook's indictment, Morganfield leveled very serious accusations of her own.
Morganfield also granted Tablet an interview for its report, during which she criticized both Mallory's association with Farrakhan and the organizational and fiscal structure of the Women's March national office.
"You are part of a national movement that is about the equality of women and you are sitting in the front row listening to a man say women belong in the kitchen and you're nodding your head saying amen!" Morganfield complained. "I told them over and over again: It's fine to be religious, but there is no place for religion in its radical forms inside of a national women's movement with so many types of women. It spoke to their inexperience and inability to hold this at a national stage. That is judgment, and you can't teach judgment.
"They don't have a clue what they're doing," she later added. "They were chosen for optics—for the image they brought to the march. They believe that being in the right place at the right time for this march and this movement made them the founders—but it didn't."
In response to the charges lodged by Morganfield and Wruble, Mallory and co-chairs Sarsour and Perez issued a videotaped challenge to the two, along with former leadership member Evvie Harmon, to substantiate their claims in a public exchange. As of press time, that conversation has not occurred.
"I think when you are a student of history you know that there's going to be attempts to destroy movements," Mallory told The Glow Up. "Because this is not new, in terms of these very serious and vicious attempts to tear away at the fabric of strong, progressive movements. It's really kind of why we never see these movements grow and really reach their full potential. ... I think social media, in particular, has provided an opportunity for people to see just how cruel it can be."
Referencing Morganfield's accusations, in particular, Mallory said, "The bottom line is that Mercy Morganfield has said things that are just not truthful; that's the reality of it. ... The thing that I think people should know is I've never sat down with Mercy Morganfield one time. I've never had a call with her, I've never had a personal email exchange with her, a one-on-one dialogue, none of that. Our communications have been very broad, and have been very public. ... In other words, I may have engaged with her at a rally or something very, very briefly, but I have no relationship to her at all, and she is not involved—never has been involved—in the leadership of the Women's March."
On Monday, the Women's March announced several new additions to its extended leadership team. The new 20-member 2019 steering committee includes several activists from the Jewish and LGBTQ+ communities, a disability advocate, women of Native American, Latinx and Asian descent, and an overall cross-generational representation that addresses the repeated complaint that the organization has been Millennial-focused.
Additionally, Jewish publication Forward reported that several New York-based rabbis with liberal leanings met with Mallory and Sarsour last week. Of the 13 rabbis attending the emotional and interdenominational meeting, which also included African-American ministers and other progressives, nine ultimately signed a letter of endorsement that read, in part:
We have learned too well that divisions between Jews and People of Color only serve to further the aims of white supremacists and their enablers, and to erase the strong presence in our Jewish communities of Jews of Color. We believe there is power and beauty in an intersectional, multi-racial, multi-faith, women-led movement that is the ideal of the Women's March. We believe the best way to ensure that ideal is to stay in the conversation and work in good faith with our partners. We also want to support our Jewish women of color sisters who have called upon the community to show up to the Women's March.
An open letter from Jewish women of color also supported the march. One of its signatories, Filipino-American Rabbi Mira Rivera of the Jewish Renewal, told Forward, "As a person of color and a Jewish person of color, I don't have that luxury to say I'm going to take my toys and walk away. To be even included in the room has been a struggle."
But if some have been concerned that Mallory's focus has been too localized upon black women, at least one black feminist organization has criticized the Women's March for not vocalizing its specific intentions for black women. Last August, the Black Women's Blueprint published an open letter to the organization, urging them to engage in more coalition building and to "be present for the women across identities who still see no place in the Women's March. We urge you to embody the intersectional feminism which continues to give Black women, LGBTQ+ and gender-fluid people at the margins the language to name our oppression."

By contrast, many well-known black female leaders and allies applaud the work of the march, in general, and Mallory's leadership, in particular. Two days before the scheduled march, they launched an online petition that garnered hundred of signatures within hours. Supporters include Susan L. Taylor, Johnetta B. Cole, Michaela Angela Davis, Donna Brazile, Julianne Malveaux and Marc Morial.
On Friday, The Women's March conducts Lobby Day on Capitol Hill to discuss its policy agenda with legislators. Mallory considers it an important part of the organization's evolution. "We've spent a lot of time building infrastructure over the last two years. At the same time, being one of the most consistent resistance forces to go up against this administration," she said. "So, we were holding both things; building some of the more institutional and foundational pieces, and then also dealing with the very immediate crisis of the current administration."
On Saturday, marchers will gather at Freedom Plaza at 1455 Pennsylvania Ave. NW, Washington, D.C. The march kicks off at 10 a.m. at the corner of Pennsylvania Ave NW & 13th St N in Washington, D.C. and returns to Freedom Plaza at 1 p.m. for the rally, which is scheduled to end at 4 p.m.
"For women of color this has been a moment when we are forcing every conversation to begin with the needs of the most disenfranchised and we have seen white women working to become more responsive," said Mallory. "I am proud of this because the movement will take all of us."