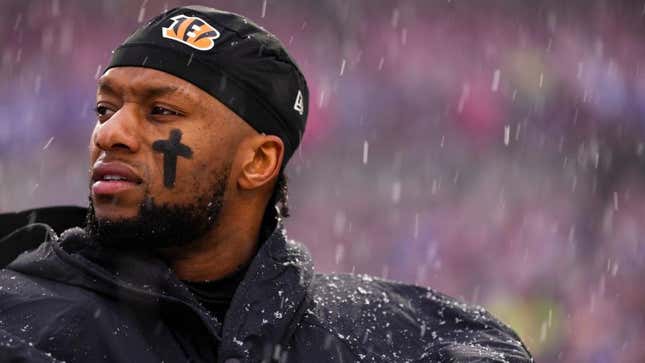 Updated as of 2/3/2023 at 4:23 p.m. ET

Just days after they lost the AFC Championship game against the Kansas City Chiefs, their star running back, Joe Mixon, had a warrant out for his arrest on a misdemeanor aggravated menacing charge. But, in a new change of events, the charges against Mixon have been dropped.
According to ESPN, the prosecutor's office in Hamilton County, Ohio requested that the aggravated menacing charge be dismissed, telling WCPO-TV, "We need additional investigation before we would move forward with this case."
The alleged incident occurred a day before the Bengals' defeated the Buffalo Bills in an AFC Divisional round matchup. Mixon allegedly pointed a gun at a woman, telling her, "You should be popped in the face, I should shoot you."
The complaint was filed Thursday in Hamilton County, Ohio and the Bengals were made aware of the charges leveled against Mixon. Peter Schaffer, Mixons' agent, made a statement shortly after news of his arrest warrant broke, saying that the charges against Mixon would be dropped
In the statement, Schaffer said, "It was a rush to judgment. They're dropping the charges first thing in the morning. I really feel that police have an obligation before they file charges — because of the damage that can be done to the person's reputation — to do their work.
He continued, "They should be held to a higher standard. Because I don't play with people's lives.
The news of an arrest warrant is not a complete shock to NFL fans. In 2014, Mixon was charged with misdemeanor assault for violently punching a woman at a restaurant while he was a student-athlete at the University of Oklahoma.
He claimed that he was called a racial slur, which led to him using an anti-gay slur before hitting the woman. According to ESPN, Mixon accepted a plea deal, was given a year of probation and was suspended from the University of Oklahoma football team for a year.
While Mixon is currently in the middle of a four-year, $48 million extension with the Bengals, this latest legal incident could hugely prohibit teams from wanting to sign him in the future, especially if he isn't as productive on the field.