Jarred Wright, a U.S. Army veteran, got some pretty interesting news during a recent traffic stop in Hurst, Texas. Jarred and his wife, Nikki, were pulled over by two officers from the Hurst Police Department, but it was all part of his wife's plan to reveal her pregnancy news.
In the viral video above, Jarred was told by a police officer that the officer stopped them because they were driving with a child but had no child seat in the back. A confused Jarred couldn't figure out what the officer was talking about, until he looked over at his wife and saw that she was holding a positive pregnancy stick.
"We do have a child in the car with no car seat!" Nikki told Jarred.
With beads of sweat on his forehead, Jarred still seemed to be in shock. But it probably had a lot to do with his previous history with the Hurst Police Department.
"I didn't have my wallet or license on me, so all I'm thinking about is how much this ticket is gonna cost me," Jarred told BuzzFeed. "Then she hit me with the surprise and I was relieved. I was ecstatic and I went into complete shock. I felt elated."
Before the pregnancy reveal, Jarred informed the officer that he had just gotten out of the hospital. But the officer wasn't a stranger to the couple. Just a year before, Jarred, who suffers from post-traumatic stress disorder, had called a crisis hotline, and the same Hurst police officer helped talk him down.
G/O Media may get a commission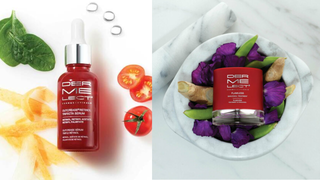 Save $19
Retinol Renewal Kit
"I felt honored, for one, that she would even allow me to be part of it, because that's a huge moment in anyone's life," Officer Todd Colichia told BuzzFeed.
Not exactly how I'd surprise someone just getting out of the hospital.