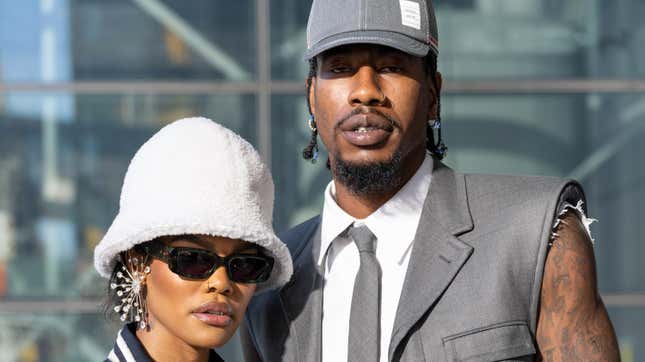 My God, today! It's not everyday that I'm shocked at the news of a celebrity couple breakup, but learning that Teyana Taylor and Iman Shumpert have called it quits was definitely not on my 2023 BINGO card.
White Men Can't Jump Stars Teyana Taylor & Sinqua Walls Play "My Favorite Things"
To be fair, there had been rumors swirling around on the gossip blogs and on social media that Shumpert had allegedly been cheating on Taylor. But on Sunday, the A Thousand and One actress took to Instagram to clarify and clear the air on what was really going on with their relationship. Though she confirmed that the two of them are in fact separated—and have been for some time now, apparently—it isn't because of cheating.
"AHT AHT! Not too much on my bestie! In all fairness, Iman and I are separated and have been for a while. To be 1000% clear, 'infidelity' ain't one of the reasons for our departure," Taylor began. "We are still the best of friends, great business partners and are one hell of a team when it comes to co-parenting our 2 beautiful children. Most importantly we are FAMILY & in the 10yrs together, 7yrs married we ain't ever played with or about THAT. We just keep y'all asses out the group chat lol, which is the reason we've been able to successfully & peacefully separate without all of the outside noise."

She continued: "The only reason I'm even sharing THIS part of the chat is because the narratives are getting a little out of hand & it's unfair to all parties involved. I hope this provided some clarity for y'all. Okay AunTey taking y'all back out the chat bye!"
*deep, heavy Negro spiritual sigh*
I knew Venus retrograde had been putting couples through the ringer lately—see Keke Palmer and Darius Jackson, Tina Knowles and Richard Lawson, Billy Porter and his boo, Jeezy and Jeannie Mai (technically their divorce happened right after the retrograde ended but we might as well throw them in their too)—but damn. Seeing yet another another couple come to the end of the road (word to Boyz II Men) has me clutching my imaginary pearls so hard, they're bound to break at any second.
Wishing all the best to Taylor and Shumpert as they continue to co-parent their daughters.