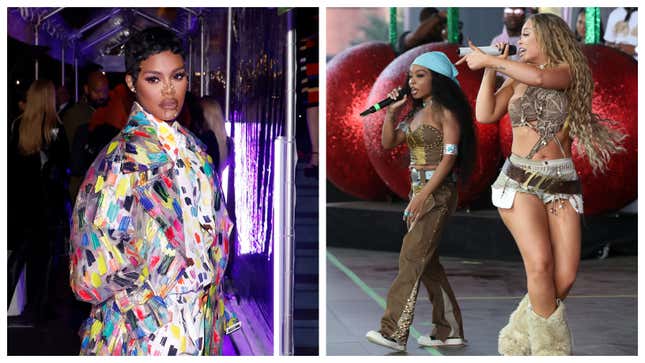 Have you wondered why some of your favorite artists are looking more confident and polished on stage lately? Well, it might be because of award-winning singer, actress, choreographer, and dancer Teyana Taylor along with her The Aunties Production team.

MAC'S Whitney Houston Make Up Collection Is Our Swag Of The Week
In 2020, Taylor announced that she would be retiring from making her own music. She took on an interview on BET's Sip 'N Smoke to clear the air and say that she wasn't fully retiring from music but simply stepping back, "I felt like the label wasn't really hearing me and seeing me. I felt underappreciated. So for my mental health and mental wellbeing, and to stay strong for my kids, I put it on ice for a bit." Since then, she has been helping newer artists gain their star power on stage.
What's so special about Teyana Taylor becoming all of these women's Creative Director? She's bringing back an emphasis on stage presence, something that seems to have dwindled in the music industry lately. The "Rose in Harlem" singer was only a teenager when she choreographed Beyoncé's music video for "Ring the Alarm" in 2006, which means that her success as a Creative Director is not surprising, she's always had an eye for artistry.
Teyana has taken to Instagram to show off some of the rehearsals, and she's putting these women to work! She gave a glimpse into the experiences working with Latto for Coachella in 2023, Summer Walker's One Night Only performance in Atlanta, Georgia, and Lola Brooke for Summer Jam in New York.
It's been particularly exciting to see an artist like Summer Walker take on direction from Teyana Taylor given that she has been criticized before for what her fans thought was a lack of stage presence at times. Teyana has given these women's fans hope for more entertaining shows ahead. With the music industry being s space where women are often pitted against each other, it's refreshing to see unity as Teyana makes sure that newer artists start off their careers looking their best. Since Teyana didn't get the appreciation from her label that she believed she needed, she is now using her skills to better the career of others.