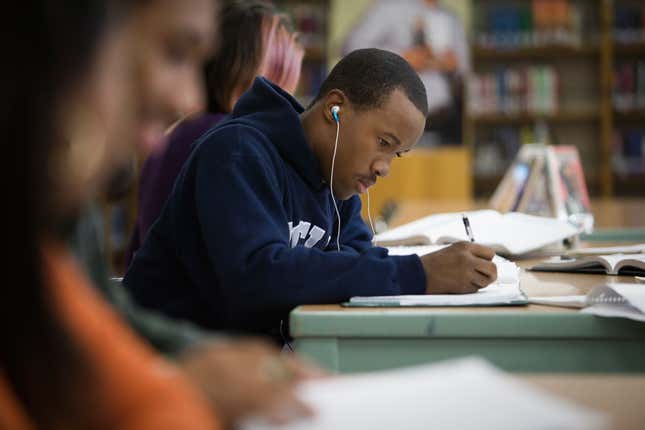 Two months after the Supreme Court gutted affirmative action, conservatives are launching an attack on high school admissions policies. On Monday, a conservative legal group petitioned the Supreme Court to look into whether a Virginia high school's admissions policy is racially discriminatory.
Afraid Of Losing Political Power, White People Weaponize "Identity Politics"
Thomas Jefferson High School for Science & Technology, the school at the center of the lawsuit, is routinely ranked as one of the country's best high schools. In 2020, the Virginia Fairfax County School Board instituted a series of policies geared at diversifying the school system without giving preferences for race.
The school board eliminated its standardized admissions test, capped the number of students from each middle school, and guaranteed spots to top students from each middle school.
Research has repeatedly found that standardized tests exacerbate educational inequities for Black and Latino students and are generally poor predictors of future academic success.
Following the elimination of standardized testing, Black and Latino admissions to Thomas Jefferson increased. However, Asian student enrollment dropped from 54 percent to 73 percent.
The petition brought by a coalition of parents argues that even though the changes were race-neutral, the intent (i.e., to increase admissions of Black and Latino students) is what makes the policy discriminatory.
The request is only the latest attempt by conservative groups to weaponize the Supreme Court's affirmative action decision on a wider scale. Earlier this month, the nonprofit American Alliance for Equal Rights filed a lawsuit against the Fearless Fund, arguing that their grants to minority women-owned businesses violated the Equal Protection clause. The group was founded by none other than Edward Blum, the attorney who gutted affirmative action.
And in July, a group of 13 Republican attorneys general argued that companies could no longer have diversity, equity, and inclusion programs because of the Supreme Court's ruling on affirmative action.
So far, the case has not been picked up by the Supreme Court. In May, a 4th Circuit Court of Appeals upheld the policy, reversing an earlier decision from the lower court.