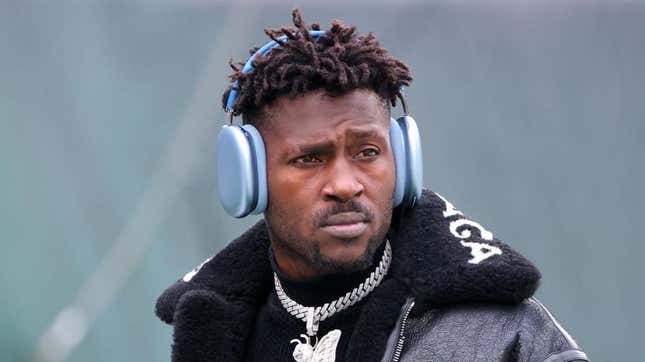 For once in the past year, it seems that Antonio Brown is a victim, and not the person who continues to find himself in trouble.
If you were unaware, the former All-pro wide receiver has returned to the football world, but not the NFL and not as a player, but as an owner.
In March, the former Pittsburgh Steeler bought a controlling stake in the Albany Empire, a franchise in the National Arena League. As a part of the investment, Antonio's father, Eddie Brown, was named the vice president of football operations, which is fitting considering his father starred for the team as a wide receiver in the 1990s.
Over the weekend, Brown attended his first game as a co-owner of the Albany Empire and watched his team beat the Orlando Predators 70-33.
In a video posted on Brown's Twitter account days after the game, Brown is greeting fans until a security guard tries to kick him off the field.
The security guard can be heard saying over and over, "Get off of the field right now. Do you hear me, you need to get off the field right now."
In response, Brown can be heard saying, "I'm not going no where" and "make me then!"
On Tuesday, Bobb Belber, the general manager of MVP Arena, where the Albany Empire play, told TMZ that the halftime celebration of the team's 2022 championship was set to begin, and in order to lower the championship banner they needed everyone to clear the field.
Even if that is the case, it did not appear that security made that clear to Brown as they were trying to get him off the field. This begs the question, did they even know he was the owner?
In the video, someone does tell the guard that he owns the team, but the guard blows it off like that couldn't be true.
If they did know he was the owner, there is no way in hell security should have spoken to the owner of the team like that, unless they are trying to lose their jobs. If they truly didn't know, security could've done a better job of what they were trying to accomplish by asking him to get off the field.