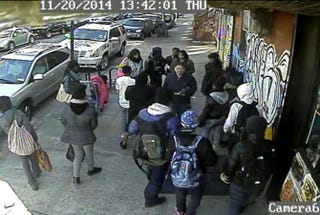 The now infamous Brooklyn McDonald's fight on March 9 that left one girl severely injured isn't the only recording of a beat-down to surface in the New York City borough.
The New York Daily News has reported on a new video filmed last fall outside a burger joint that appears to show a group of teen girls fighting their contemporaries and others egging them on. The fighting took place Nov. 20 in the early afternoon outside an Action Burger in the Brooklyn neighborhood of Williamsburg, the daily said.
Vlane Carter, the owner of the establishment, posted the video on YouTube, the Daily News said.
"This is the second time in three months I've seen kids organize a bully fight outside my restaurant after school," Carter wrote in an email to the Daily News. One girl entered the restaurant to request a napkin to wipe blood from a friend's face, he recounted.
At one point the girls appear to knock a man off a bicycle after he stopped and pulled out his phone.
Read more at the New York Daily News.