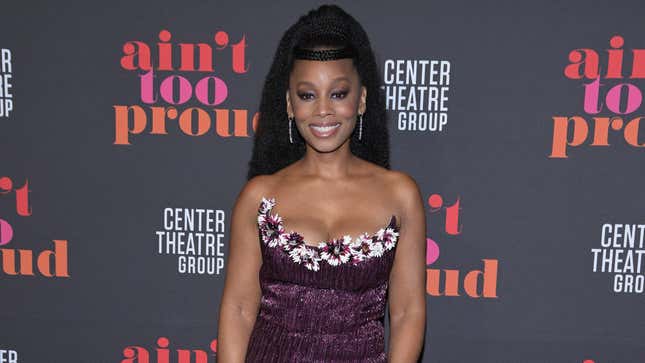 Anika Noni Rose shared with Brides the intimate details of her wedding to fellow actor Jason Dirden last year. The pair met in 2014 when they were part of the Broadway production A Raisin in the Sun. "We were friends for a couple of years, actually," the actress told Brides. "We both went off and did our own things and were disconnected for a while and then swung back."
Grammys 2022: 10 Black Artists Who've Won Album of the Year
Their relationship has been kept quiet for years, with neither party publicly announcing that they were dating, engaged or married, until now. Dirden says it was Rose's sense of humor that sealed the deal. "When we first worked together, that's what drew us in together as friends. This woman is so silly. She has a four year old child living inside of her that will never go away," he told the publication.
"She loves to prank people, and she has that kind of spontaneous silliness to her that allowed us both to release any type of armor, or any type of defense mechanism, and allowed us to really just be who we are with each other. We created this friendship walking 60 blocks from rehearsal to the gym, just talking about life, or about anything really.
"It had nothing to do with the play that we were working on. There's always been that kind of comfort and ease between us." Rose's dress was custom and designed by Gbemi Okunlola of Alonuko Bridal, which is London-based.
We love to see celebrities guarding their privacy by keeping their romantic relationships under wraps.
In other news, Kanye West allegedly secretly wed Yeezy Architectural Designer Bianca Censori. TMZ published photos of the controversial rapper wearing what appeared to be a wedding band last week.
Anika Noni Rose kept her nuptials quiet since she didn't want to become tabloid fodder and have her privacy intruded upon.
West's union went under the radar because he's buried himself in a hole so deep, it'll be nearly impossible for him to get out of it.