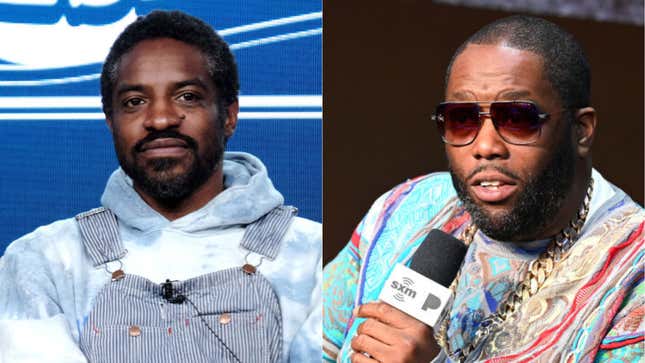 Updated as of 06/23/2023 at 9:07 a.m. ET: 

It turns out that my emotions were being played with and it has nothing to do with Andre 3000 and everything to do with Killer Mike.
MAC'S Whitney Houston Make Up Collection Is Our Swag Of The Week
During a Wednesday interview with V-103, a radio station in Atlanta, the MICHAEL rapper clarified that his original comments about Andre 3000's alleged album were not true.
He explained, "I was stoned out of my mind playing, teasing with y'all. Y'all done took the joke too seriously. I was stoned out of my mind playing, teasing with y'all. Y'all done took the joke too seriously."
He continued, "If you want to hear Dre though, I know where you can. It's this album called Michael that's out right now. There is Dre, Future, and Killer Mike."
This is my fault. I should've known better. I fell for it again.
I shouldn't have believed one word coming out of Mike's mouth unless 3 Stacks came to my home personally and handed the album to me himself.
See the original story below:
I don't like when my emotions are toyed with, especially when it comes to music.
I recall as a young music listener when Kendrick Lamar and J. Cole would constantly tease that their collaborative album is on the way, just for it to never come out.
I remember when Dr. Dre teased the release of his third studio album, Detox, for over a decade, even saying, "Yes, Detox is coming" in 2010, just for hip-hop fans to never hear about it again.
Those precious letdowns left scar tissue, especially for a naive hip-hop fan who believed everything that his favorite artists told him.
While I've matured since then, and learned that I shouldn't believe everything your favorite MCs say, I hope that Killer Mike isn't lying when he says that rap fans will finally get the long-awaited solo Andre 3000 record.
I don't know how to feel. Part of me wants to get excited considering that 3 Stacks is one of the most creative, unique, and individualistic rappers to ever grace a mic. But something else is also telling me that I should not get my expectations too high.

During a 2019 interview with Rick Rubin on his Broken Record podcast, the Atlanta MC said that his focus is not on making music.
He later said, "My confidence is not there. I tinker a lot. I'll just go to a piano and I'll set my iPhone down and just record what I'm doing, moving my fingers and whatever happens, but I haven't been motivated to do a serious project."
If Andre 3000 still feels that way, I want to believe him.
But if a respected voice like Killer Mike is saying that one of his mentors is working on a solo record and that he and many other close associates are "flying out" to listen to it soon, I hope that Andre shares the wealth and lets the public listen to it as well.
I don't care if it's a three-track EP where Andre 3000 is playing the flute for 10 minutes or a 14-track album where he's rapping his ass off, I just want new music from 3 Stacks.