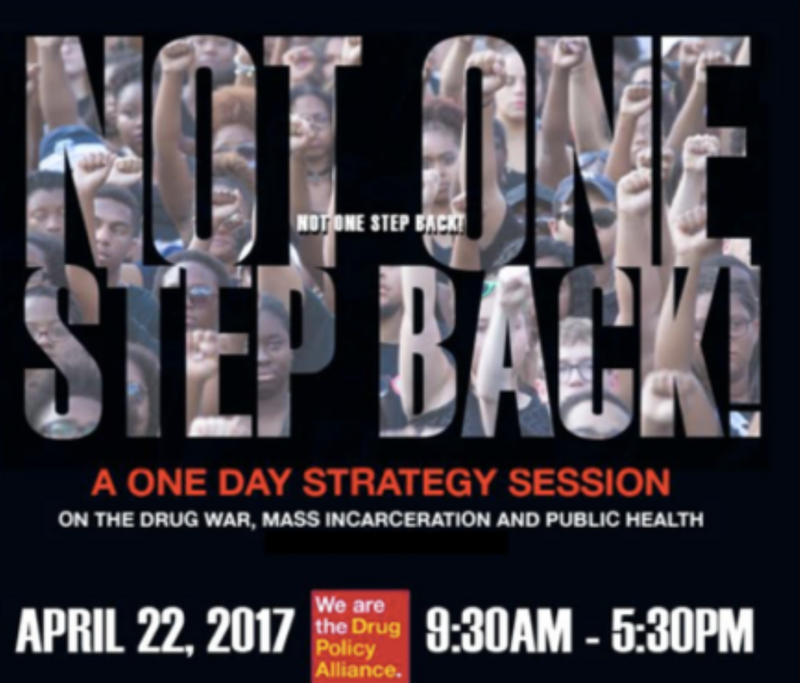 The war on drugs, the phrase itself, has become such a menacing presence in this country's vocabulary, sometimes it becomes all too easy to replace rhetoric with relationships.

With its first Not One Step Back strategy session at Morehouse School of Medicine in Atlanta on Saturday, the Drug Policy Alliance made it clear that strong relationships build strong communities, which lead to effective policies that can finally eradicate the war on drugs for good.
Civil rights activists, freedom fighters, formerly incarcerated people, drug users, professors, scholars, students, journalists and mothers who lost their children to the drug war all gathered to speak unapologetically about the decimating effects of the war on drugs in occupied communities across the United States.
The day was full of robust panel discussions that focused on racial discrimination, capitalism, connecting the dots between the historical and contemporary war on drugs, and what real revolutionary courage looks like.
"How I treat my comrade, how I treat my baby, how I treat my husband, requires courage," said Patrisse Khan-Cullors, veteran organizer and co-founder of the Black Lives Matter Network. "Our relationship to each other is just as important as our relationship to the state."
Iva Carruthers, co-founder of the Samuel DeWitt Proctor Conference, said that it takes courage to be a black mother raising children in occupied territory and that we must "charge genocide" in a nation that has been slowly killing black, brown, indigenous and poor communities from the inside out.

But there were intercommunity reckonings, too.
Dorsey Nunn, the beloved executive director of All of Us or None, who is best-known for his groundbreaking work to "ban the box," rightly leveled criticism at the black church and the respectability politics and shame that have created barriers between the church and the communities it claims to serve.

asha bandele, senior director of the Drug Policy Alliance, was clear that she understood Nunn's point, but even clearer that the black church writ large is not a monolith and cannot, should not, be dismissed.
Carruthers took it one step further and started calling the roll.
"Let us not forget that it was Rev. Nate Turner, Rev. Sojourner Truth, Rev. Harriet Tubman, Rev. William Barber and Rev. Martin Luther King Jr.," Carruthers said emphatically.
"It is sacred work," Carruthers continued. "Our work is righteous."
Deborah Small, a senior fellow at Johns Hopkins University, brought the house down with her keynote speech, "Drug Policy Is a Human Right." I've written previously about the connection between slavery and the war on drugs, but Small brilliantly took it back to the very beginning.
"This is a country that built their economy promoting addiction for profit," Small said.
"Tobacco, sugar, rum," those were the first drugs, and plantation owners were the dealers. Enslaved Africans were forced to build the supply.
"Beasts of burdens, that's why we were brought here," Small said. "There is something perverse about being brought here [for that purpose] and then having everything taken away by addiction."
Small also tackled rape as a foundation of slavery, and how that also fueled the drug war before it even had a name.
"We were first forced to produce children we didn't want, and they took them and sold them to someone else," Small said. "Why as a community have we been willing to accept that for so many years?"
Opting not to shy away from how victimization and complicity can go hand in hand, Small used the John Ridley film 12 Years a Slave to paint the picture.

"There was a scene where [Solomon Northup] was hanging by a thread. They couldn't lynch him. [Other enslaved Africans] eventually started walking around going about their business because they believed they couldn't do anything," Small said to the hushed crowd. "That's conditioning, a legacy of slavery."
In an interview leading up to the Not One Step Back strategy session, bandele said that holding the event in Georgia held special significance.

"The South has borne the brunt of mass incarceration," bandele said. "DPA held a conference in Louisiana [the prison capital of the world] in 2007, and now we're coming back to the Deep South at a time when the U.S. attorney general is from Alabama. Black people are 32 percent of Georgia's population but 76 percent of those incarcerated for marijuana offenses. We're not taking one step back."
Marc Lamont Hill moderated an important panel that took a deep dive into prison abolition and envisioning a nation beyond prisons and punishment. DPA's shift in strategy from focusing primarily on eradicating mass incarceration to encompassing the reverberating effects of mass criminalization of black, brown and poor people was a thread that was evident thoughout the session.
Closing out the day was Rep. Maxine Waters (D-Calif.), who was greeted with thunderous applause. Waters pulled no punches, charging the Los Angeles Police Department with living on drug kingpin Rick Ross' payroll during the height of the crack epidemic, and for occupying and entrapping black and brown youths simply because they could.
"They were just smoking a little grass, drinking a little 40 oz.," Waters said to brittle laughter weighed down by the truth of it all. "They weren't bothering anybody."
Just as important as the brilliant panels, the deep community ties that are necessary to sustain this work were strengthened and forged anew. Several organizers spoke about the daily stresses that come with the territory, the feelings of depletion and failure, as more black and brown people are gunned down by police officers who claimed they "fit the description."

The all-encompassing rage as more mothers are arrested, their children thrown into the foster care system, can sometimes become too much. The hot tears that fall as more fathers are thrown behind bars, then thrust back into society without access to employment or housing, can make the strongest person feel weak.

But what is so special about this gathering is that those fathers were there speaking for themselves. Those mothers were there speaking for themselves. Those drug users who were stripped of their freedom were there speaking for themselves. There was no judgment, just love, and the ever-present belief that we will win.
"ALL OF US!" shouted Dorsey Nunn at the conclusion of the weekend.
"OR NONE!" shouted all of those gathered in response.
And that revolutionary love is how we not only survive but thrive.
---
The Not One Step Back strategy session was sponsored by the Drug Policy Alliance, Georgia State University's Department of African American Studies, Morehouse School of Medicine, Amnesty International, the Ordinary People's Society, Self-Care Agency, SisterCARE Alliance, the Malcolm X Grassroots Movement and Peachtree NORML.

DPA will be in Atlanta again Oct. 11-14 for the International Drug Policy Reform Conference. Click here to learn more and to register.