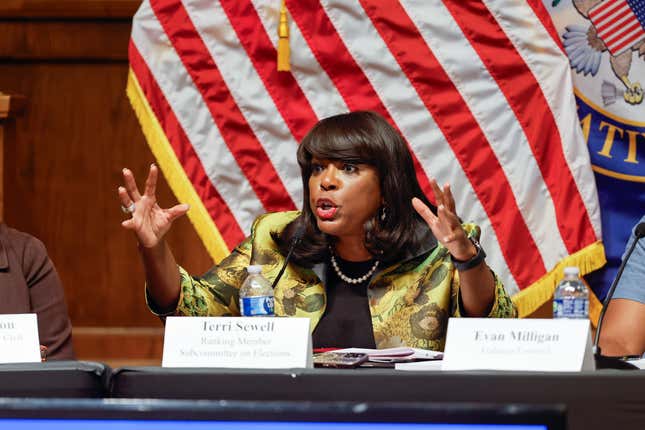 Updated 07/29/2023 at 8:00 a.m. ET
Congresswoman Terri Sewell (D-AL.) isn't taking the latest Alabama GOP attack on Black voting power lying down.
Dr. King's March on the Ballot Boxes Is Under Threat Today
"At a time when many are trying to erase our history and roll back our progress, this is a reminder that old battles have become new again," said Sewell, the only Black Representative from Alabama in Congress, according to Axios.
The Selma, AL., native, who is pushing legislation to restore the Voting Rights Act, also called out Republicans in her state on Twitter.

"Banning books about Black history. Teaching our children that slavery had benefits. Defying the Supreme Court to disenfranchise Black voters. Across the nation, extremists are trying to silence our voices and roll back our progress. But we in @TheBlackCaucus are fighting back!" wrote Rep. Sewell.
The battle over voting rights in Alabama reached a boiling point last week when Alabama Republican Governor Kay Ivey signed a congressional map with only one-majority Black district. All of this could be viewed as typical gerrymandering shenanigans if it weren't for the fact that multiple courts (including the Supreme Court) ruled that the state needed to form two majority-Black districts or "quite close to it."
Alabama's Republican Governor didn't even try to pretend like she was following the court's order in a statement she released after signing off on the map. "The Legislature knows our state, our people, and our districts better than the federal courts or activist groups, and I am pleased that they answered the call, remained focused, and produced new districts ahead of the court deadline," said Ivey.
In June, the Supreme Court upheld a lower court ruling in Allen v. Milligan, which found that the state's original map violated the Voting Rights Act. The original map only had one Majority-Black district, despite Black Americans making up 27 percent of the state. The court ordered Alabama to draw an additional majority district.
Instead of following what sounded like a pretty straightforward ruling, the new map includes one voting district that is roughly 50 percent Black and one that is a little less than 40 percent Black.
"I am convinced that passing a non-compliant map was the plan all along," said State Representative Chris England on Twitter. "We could have saved time and money by not doing anything and just letting the court draw it."
The fate of the new map is now back in the hands of the court system that threw out the first one. Federal judges will hold a hearing on August 14th to hear objections to the new congressional map. But Black Democratic lawmakers, like England, are worried that won't be the end of this saga.
"We find ourselves back in a familiar position of waiting for the Federal Court to tell us what to do," wrote England on Twitter. "But, the thing is, I am convinced that this is what some folks actually wanted. And because of this defiance, who knows what's going to happen next."