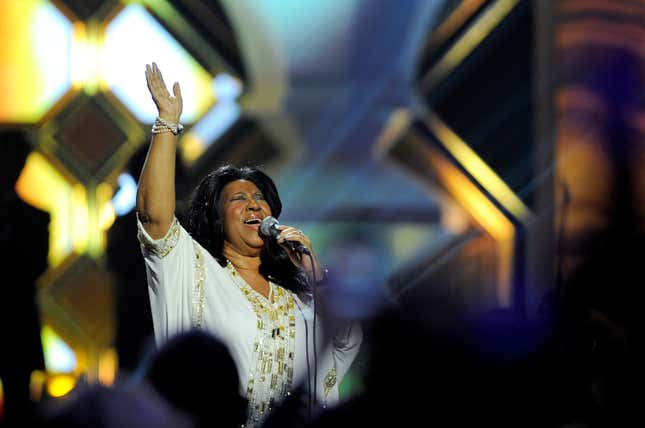 The battle over Aretha Franklin's estate has gotten capital M-MESSY, requiring a long, drawn-out court hearing this week in which deep familial divisions—and some pretty shocking details about the late great singer's finances—were on full display.
Fighting "Lie-abetes": How To Spot And Combat Disinformation and Conspiracies In Politics | The 411: Part 2
Among the revelations: Franklin, who allegedly did not have an accounting system while she was alive, once had $750,000 in uncashed checks in her purse, according to one of her son's attorneys.
Three quarters of a million dollars?? Just sitting?? In your pocketbook???? Talk about being in your bag! (It's also part of why Franklin could always be seen on stage with her purse not too far from her—though previous reporting stated it was because she required payments be made to her in cash before her performances.)
[Editor's note: Anne, that's actually three-quarters of a million dollars...and my bank account weeps at the thought.]
The Detroit Free Press reports that three wills allegedly written by Franklin will be reviewed by a handwriting analyst to assess their authenticity. And the trust between members of Franklin's family was so nonexistent at Tuesday's court proceedings that some "occasionally scoffed and groaned indignantly under their breath as various attorneys stepped up to speak."
One of the major issues at play is how income over an upcoming biopic will be divided among Franklin's surviving relatives.
From the Detroit Free Press:
The three-hour proceeding introduced several key revelations, including that more than $350,000 already has been distributed by the estate to Franklin's four sons, and that $178,000 was stolen from the singer via bank fraud months before her August 2018 death.

The estate has earned $1.1 million from the gospel documentary Amazing Grace, attorney David Bennett told Judge Callaghan.

But he indicated that negotiations with MGM have snagged over a planned Queen of Soul biopic starring Jennifer Hudson.

"That (film) is more problematic (because of what MGM is offering)," Bennett said. MGM has announced a planned 2020 release for the film.
Central in the conflict is the role of Franklin's niece, Sabrina Owens, as the Queen of Soul's estate representative. Franklin's youngest son, Kecalf Franklin, contends he should replace Owens, whom he has accused of authorizing the Amazing Grace documentary despite the singer's expressed wishes. Two of Franklin's other sons support keeping Owens in the role, though one of them wants to act as co-representative of the estate.
As the Free Press reports, the Oakland County Probate Court decided it will oversee administration of Franklin's estate as the bad blood between the singer's kin continues to simmer.