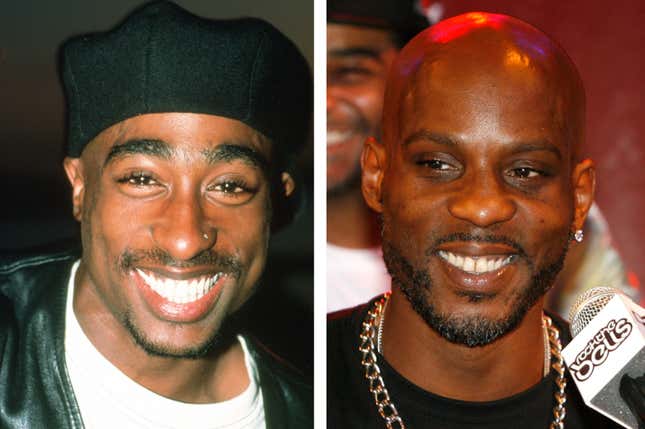 In Jurassic Park, as its founder, scientists and lawyer celebrate how brilliant they are for bringing dinosaurs back and how much money they're going to make, Jeff Goldblum's Dr. Ian Malcolm famously chides them by saying, "Your scientists were so preoccupied with whether or not they could, they didn't stop to think if they should." Right now, that's where we are with AI. All these tech geniuses are so excited about creating new software and using it to do things they never could've done before, it hasn't occurred to them to think about the ethics of it all.
Mixtape Docu-Film & The Chi Season 6 Are Our TV Picks This Week
The latest horrifying example comes in the form of a new song from late rap legends 2Pac and DMX. "Facing Death" features AI versions of the two artists sending messages to their enemies from the afterlife, which is morbid and disrespectful.
"I'm gone but I will never be forgotten/Was talkin' about death 'cause I knew niggas was plotting," the AI 2Pac raps. "So I came back, only to haunt these niggas/Snakes will slither, It don't matter who pulled the trigger!"
Yes, the AI is an extremely well done duplication of 2Pac's voice, rhythm and style. However, we all know it's not him, so at the end of the day, it doesn't matter how good this version is. Tupac Shakur was murdered in 1996. It would not have occurred to him to protect his likeness from being used in holograms and artificial intelligence. Just because the technology didn't exist doesn't mean you have the right to exploit an artist's identity.
The song was written and produced by YouTuber dopfunk, with the description including the disclaimer, "This song was created with the help of A.I. technology and does not represent the thoughts or attitudes of the imitated artists in any way." Seriously, how often have you been on a video and clicked the "see more" option to read the entire description? While the DMX verse doesn't sound quite as flawless as 2Pac's, that doesn't seem to bother fans who raved in the comments.
One user wrote, "honestly this is mind blowing!!! This is Tupac rapping and I don't care what anyone says. The best remix I've ever heard!!!"
Accompanied by several fire emojis, another fan replied, "GOT CHILLS AND SHED A TEAR LISTENING TO THIS AMAZING SOUNDS REAL."
Another user applauded how the AI was used, writing, "A masterful use of technology for those that have passed."
Just because it's good, doesn't mean it's right. As fans we all want to have new art from our favorites, but at what cost? It's all sunshine and rainbows when we're just talking about great music and unexpected collaborations. However, Zoom's controversial new terms of service and the focus of AI as a central issue in the WGA and SAG-AFTRA strikes signal that we're not far from the dinosaurs eating people part of this story.