Age is the one opponent that no professional athlete has ever truly defeated. As the NBA playoffs hurtle toward the later rounds, several of the top players are not only battling to lead their teams into the conference finals, but they are fighting the gravity that age usually exerts on player performance. The moves that came easily in a player's 20s are almost always more of a struggle in his 30s. To do them night after night under the intense pressure of the playoffs, with the additional media scrutiny, defenses designed specifically to thwart, and a play almost-every-other-day schedule, is a grueling test.
Yet age isn't what it used to be in the NBA. With the exception of great centers like Kareem Abdul Jabbar, Robert Parish or Hakeem Olajuwon, the big 3-0 used to mark a player's sunset years. Isiah Thomas retired at 32 and ceased to be a valuable player at 30. Earl (The Pearl) Monroe retired at 35 and ceased to be a top-tier player at 32. Scottie Pippen played till he was 38, but his performance declined precipitously after he turned 32. And these aren't role players, these are Hall of Famers!
The fate of several teams in the NBA conference semifinals rests on the shoulders of players with a lot of wear and tear on their frames. Players arrive in the league sooner than they did in the '80s and early '90s, thus their bodies have absorbed the impact of more NBA minutes. In addition, the playoffs are longer now, four rounds of best of seven series, which take almost two months. By contrast, the storied '69-'70 Knicks won their title in a mere 20 games, and that post-season lasted just over five weeks.
Los Angeles Lakers guard Kobe Bryant, San Antonio Spurs center Tim Duncan, Boston Celtic teammates forward Kevin Garnett and guard Ray Allen have each played more than 40,000 NBA minutes. How are they doing in their battle with the ravages of time? How they fare against age will go a long way to determine how far their teams advance in the post-season.
Bryant might seem like a strange inclusion into this discussion as he's only 31, but with 14 seasons as a starter in the NBA he's played a ton of minutes. He already ranks among the top 50 in all-time regular season minutes played and with a long playoff run by the Lakers, he will move into fifth all-time in career playoff minutes. In Games 3 and 4 of the Lakers first-round series against the Oklahoma City Thunder, Bryant, who was slowed by hand and leg injuries this season often looked as if age was gaining on him. He committed sloppy fouls (hacking a jump-shooter for instance). And his playoff performance so far is somewhat below his lofty standards. Bryant's shooting percentages this post-season are also below his career norms, and he is committing more turnovers. He's still a top player; his defense against the Thunder's Russell Westbrook may be the biggest single factor in the Lakers first-round series win, but there has been a slight but distinct decline in Bryant's play this season (all those game winners notwithstanding). The question going forward is whether the cause is recent injuries or age weighing in.
Garnett's Celtic teammate Ray Allen turns 35 this summer, ancient for an NBA perimeter player. While his game is in decline, it has been a slow wane. Despite a well-rounded game, Allen has been best-known as one of the league's top sharpshooters. In the last few years, Allen has begun to resemble his stereotype of being a mostly a shooter. His assists and rebounds are down, but he, too, remains a valuable player on the floor. The Celtics are seven points better per 48 minutes with Allen in the lineup.
G/O Media may get a commission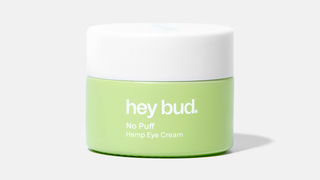 15% off
Hey Bud - No Puff Hemp Eye Cream
Tim Duncan, who turned 34 last month, is the sort of player who should age especially well. He is a classic pivotman who denies the paint to all opponents, and his coach, Gregg Popovich has thoughtfully limited his regular-season minutes with the expectation of long annual playoff runs. His regular season and playoff numbers have been consistently stellar. Yet after seven games into this postseason, Duncan's performance is off substantially. His shooting and assists are down, and his turnovers are up. (His rebounding has remained steady.) Seven games is too small a sample size to draw any sound conclusions, but he does bear watching.
The picture is clearer on other NBA geezers. Cleveland Cavaliers center Shaquille O'Neal, 38, is a valuable role player, a far cry from his years as one of the best centers ever. Phoenix Suns swingman Grant Hill, 37, missed most of four seasons in his prime, but he continues to enjoy a remarkable, late-career renaissance as a stellar role player. Hill's teammate, guard Steve Nash, who turned 36 in February, is still playing at an all-star level. He is turning into a beacon of hope for players who hope to fend off the vagaries of aging.
Tick tock. Tick tock…
Martin Johnson is a regular contributor to The Root. Follow him on Twitter.
Like The Root on Facebook. Follow us on Twitter.
Martin Johnson writes about music for the Wall Street Journal, basketball for Slate and beer for Eater, and he blogs at both the Joy of Cheese and Rotations. Follow him on Twitter.