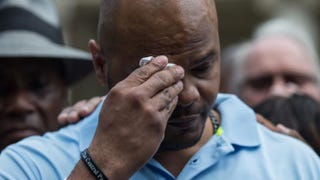 The Central Park Five—the five men wrongfully convicted of sexually assaulting and attempting to kill a white female jogger in New York City's Central Park in 1989—are seeking $52 million from the state of New York in a wrongful-imprisonment claim, an amount that would be in addition to a $41 million settlement with New York City that they won in a civil rights suit in federal court, the New York Daily News reports.
"After winning a landmark $41 million settlement from the city, the Central Park Five are looking to make New York State pay even more for their time behind bars," the Daily News explained.
According to the paper, the quintet—made up of four African Americans and one Hispanic—reactivated their individual claims with the state after their collective suit was approved in a federal court in Manhattan.
One of the wrongfully convicted men, Raymond Santana, made his case to the Daily News that their coming back for more money from another level of government, the state, was completely warranted because it has been incredibly difficult for the men to transition back to civilian life and fend for themselves after spending so many years behind bars.
"When you have a person who has been exonerated of a crime, the city provides no services to transition him back to society," Santana told the Daily News. "The only thing left is something like this—so you can receive some type of money so you can survive."
"At the end of the day, there was an injustice that occurred, and we want to right these wrongs—and that's at all levels, federal or state," he added.
The criminal convictions against the Central Park Five were vacated in 2002 after Matias Reyes—a career criminal who was serving time for another crime—came forward and confessed to having committed the crime by himself in 1989.
Myron Beldock, an attorney for four of the five men, argued that they deserved to be awarded more money at another level because of how greatly their lives were impacted by the wrongful imprisonment. 
"It's not a double dip," Beldock told the Daily News. "Although our clients got substantial payments, we don't think it was sufficient for their lawsuits. How much is a year in jail worth in a child's life?"
Read more at the New York Daily News.