Mohamed Bamba is the type of player college coaches drool over. He's a 7-foot-tall big man with a 7-foot-9 wingspan who was ranked No. 3 in the ESPN 100 rankings of players for 2017.
He's a McDonald's All-American, and the type of player who can single-handedly change a program's charted course. In fact, ESPN wrote just that about what Bamba was expected to bring to Shaka Smart (yes, that Shaka Smart—the coach during Virginia Commonwealth University's historic run in the 2011 NCAA tournament) and the Texas Longhorns.
But it looks as if all of that has been shut down, thanks to Bamba's hating-ass brother Ibrahim Johnson, who took to social media to snitch on gifts that Bamba received from his mentor and financial adviser, Greer Love.

According to the 22-minute video posted on Facebook on Wednesday afternoon, the original plan was for Johnson, who had a basketball career of his own at Division II Montevallo, to enroll in a graduate business course so that he could shepherd his younger brother's basketball career as a sports agent. Johnson claims that Love, a vice president at Huron Capital with degrees from Indiana and Michigan, muscled himself into the picture and, in turn, muscled him out, so he snitched on all the gifts that Bamba received from Love, thus shutting down his brother's college basketball career for at least a year.
"He's not going to play this year in the NCAA because I already reported him to the NCAA, and I'm already going to meet with the NCAA," Johnson boasted during his snitch-athon, NBC Sports reports. "He's not going to play this year. I'm not going to lie to you. I exposed that kid."
G/O Media may get a commission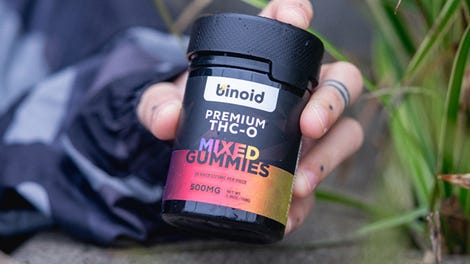 25% Off + Free Shipping
Binoid THC-O Gummies
Disclaimer: Let me explain snitching and why I don't like it. Snitching is not going to the police to report a crime. Snitching is not reporting a crime that you have witnessed or been involved in. Snitching is being a part of the criminal activity and then telling when the spoils of said crime don't come your way. There is a difference.
Calling the police to report that young men are selling drugs in your neighborhood is not snitching.
Calling the police to rat out another drug dealer who is cutting in on your sales is snitching.
Johnson is the latter of the two. While Love was allegedly blessing his brother with a new bed and $200 a week in spending money, Johnson had nothing to say to the NCAA. When Johnson learned that Bamba's long-term plans might not have included him, well, now he's an open book.
"We're aware of the recent social media post regarding our men's basketball student-athlete Mohamed Bamba," a Texas spokesman told NBC Sports. "As is usual practice by the NCAA, Mo's amateur status was previously reviewed and final certified by the NCAA Eligibility Center. The NCAA has not informed us of any pending issues or eligibility concerns at this time regarding Mo. If there are further questions, we certainly will cooperate with the NCAA to the fullest."

Bamba was set to be a top pick in the 2018 NBA draft if he left Texas after a one-and-done season, but now who knows what will happen? The NCAA will be investigating the incident, and Bamba may have to sit out the entire season. But hey, at least his older brother got his revenge, even at the expense of his family.
Read more at Yahoo! Sports.