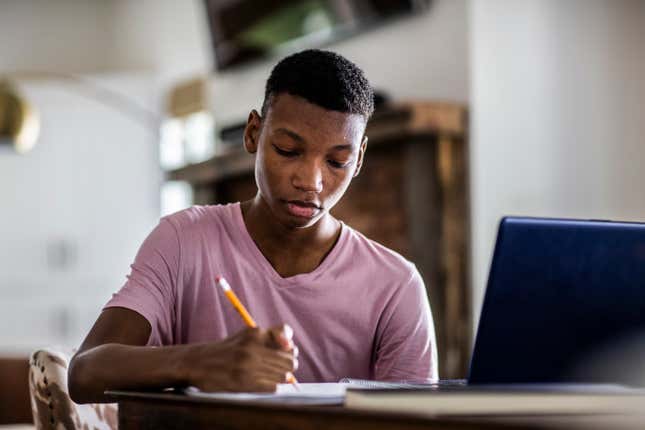 It only takes a few minutes of scrolling on The Root to find horrific examples of bullying and racial discrimination against Black students. As it turns out, these were far from isolated incidents.
Donald Trump Might Actually Face The Music For His Alleged Hush Money Schemes
Last fiscal year, the U.S. Department of Education's Office for Civil Rights logged nearly 19,000 racial discrimination complaints, setting a new record for the office. The year 2016 held the previous record for complaints (which doesn't seem like a coincidence), peaking at roughly 16,000.
Officials told the New York Times that the majority of complaints alleged discrimination based on race, disability or sex. The number of complaints isn't necessarily surprising based on the news stories emerging from schools on an almost daily basis.
For example, in Texas, several Black parents filed a discrimination suit alleging, among other things, that one of their children had repeatedly been called the "N-word" by classmates and that others were subjected to racial discrimination by teachers.
Still in somewhat of a twist, officials told the New York Times that the number of complaints doesn't necessarily mean things are moving in a negative direction.
"It reflects the confidence in the Office for Civil Rights as a place to seek redress," Catherine Lhamon, the assistant secretary for civil rights at the Department of Education, told the New York Times. "At the same time, the scope and volume of harm that we're asking our babies to navigate is astronomical."
If you think about it, the statement makes a lot of sense. Under the Trump administration, complaints went way down. That doesn't mean there was less racism under the Trump administration (seems unlikely).
But it's possible that fewer parents thought there complaints would be taken seriously (especially since the administration was actively dismantling civil rights protections).
Still, even if part of what we're witnessing here is more families feeling comfortable speaking up, the extent of the problem as spelled out by the 19,000 complaints, is still incredibly troubling.