In the words of that sage of Hollywood, Robert Downey Jr., a hero is not a noun it's a verb.

Truer words have never spoken as our most favorite philanthropist, Chance the Rapper, aka Lil Chano, who has already given millions to Chicago public schools, announced on Thursday that he'd be donating $1 million dollars for mental health services in his native Chitown.
During the second annual summit for his nonprofit organization SocialWorks, Chancellor Bennett III made the generous pledge.

"We want to change the way that mental health resources are being accessed," Chance said at the summit.
G/O Media may get a commission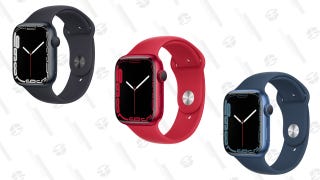 Up To $45 Off
Apple Watch Series 7
Rolling Stone reports that six mental health providers in Cook County will each get $100,000 grants and that SocialWorks is starting an initiative called "My State of Mind" to help connect people with easily accessible, neighborhood-based and culturally relevant treatment.

"We need a new space where people can get information on how they feel, on where to go and a network for us to interact and review our mental health spaces, and create a community of people helping people," Chance said.

The South Side of Chicago has been decimated by violence; we've heard it all before. But what is rarely spoken of is the residual effects of trauma and how it ripples through the community, with social, emotional, financial, and dream-deadening collateral damage.

"Every time a person gets shot, especially a young person, there are literally hundreds of people who are affected by that shooting," Brad Stolbach, the clinical director of Healing Hurt People-Chicago, a trauma treatment organization, told PBS News Hour. Those people are "not thought about," he said.

City data shows that neighborhoods that experience the most gun violence have the highest number of hospitalizations for depression, anxiety, PTSD, self-medication (aka drug abuse), and other behavioral health issues.
Since 2009, Chicago has closed six mental health clinics, and the state cut $113.7 million in funding for mental health services. Chance has been a vocal critic of Mayor Rahm Emanuel for the closing of said clinics, reports the Chicago Sun-Times.
The rapper also announced he would be expanding on the donations he previously made to Chicago Public Schools. Last year, he donated $1 million to Chicago Public School Foundation "for arts and enrichment programming."
"This year, 20 more schools will get $100K," Chance said. "We will be upping the game in terms of equity, in terms of what is rightfully yours. Principals, teachers, we got your back."
The Sun-Times reports that in all, Chance has made $4.2 million in donations over the past two years to Chicago Public Schools, among his other charitable efforts.
Perhaps because mental illness is finally, thankfully, becoming something acknowledged openly, and Chance knows that his community is in dire need of relief, or maybe Chance has seen mental illness up close in his mentor/big bro; whatever the reason, we are thrilled that he has stepped up with the announcement; this kid is a true hero.