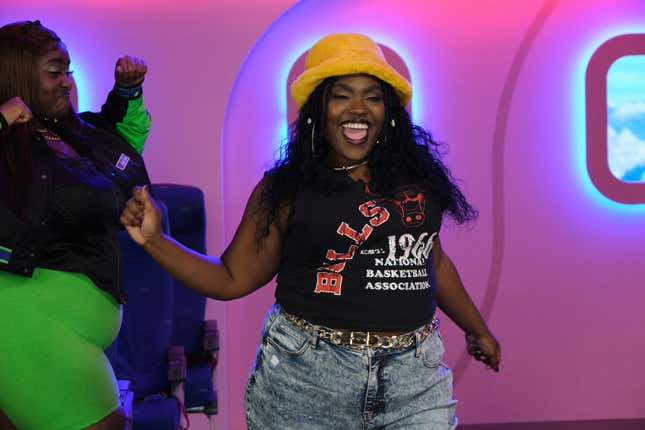 HBO's A Black Lady Sketch Show stars some of the most talented women on television. Tamara Jade joined the series in Season 4 as a featured player, kicking off her acting career in hilarious fashion. If Jade looks, or sounds familiar, you may remember her from Season 19 of The Voice. Her first season on the comedy hit proves that she is headed for multi-hyphenate territory. Ahead of the Season 4 finale, Jade spoke with The Root about joining the series and creating some of its most memorable characters.

America's Got Talent Host, Terry Crews, Shows Full Gratitude For Writers On Strike
Ahead of the Season 4 premiere, creator/writer/star Robin Thede told The Root how impressed she was with the way the new cast members jumped into the show without missing a beat. To Jade, it was a wild, yet unforgettable, experience to join the Emmy-winning series.
"Some moments were out of body experiences, like, 'Oh my gosh, I can't believe I'm here.' And then I'd have to quickly snap out of it and be like, 'Girl, you're at work, pay attention.' There were so many moments I would just look around and be completely in awe that I was in the room with these people," Jade told The Root. "But, what also was really amazing, is that it felt like grad school, it felt like a master class at work. Every single day felt like getting to get in there and play with really talented, incredibly skilled, experienced women. Such a invaluable, precious experience that I know I will have with me for the rest of my career."
Though she's at the beginning of her acting career, Jade is very aware of how special and unique A Black Lady Sketch Show is. She understands that this opportunity is "not just a job."
"The gravity of it is what made me most nervous going into the project. Understanding that I'm a part of history. I'm a part of a legacy. A show that's not just a moment in time but really is making its stamp on the entertainment industry, making its stamp on television and showing them we are here in every area," she said. "We are here in comedy, we are here in sketch comedy, we have amazingly hilarious stories to tell too and I definitely feel the gravity of this moment and I'm so honored that I got to be a part of it."
She noted the show's " collaborative creative process," and how the cast is encouraged to work with hair and makeup to make characters their own. She revealed that as much fun as you see them having on TV, things are even crazier when the cameras aren't rolling, which also leads to the unique voice of the show.
"What other jobs do you get to do stuff like that? We literally go to work and play. We have tons of [behind the scenes] footage of us just being a fool," Jade said. "It's so fun to be different people. The rehearsal process is extremely fun and rewarding, but once we get to the days of shooting and we put the clothes on and we're in hair and makeup, it's like 'Oh no, it's no turning back. I am this person. You can't tell me anything.' It is so much fun to come to work and do different people every day. I can't say that I get to do that anywhere else."
A Black Lady Sketch Show is available on MAX, launching May 23.