The 14th annual Tribeca Film Festival is coming to New York City April 15-26, and it features a handful of films highlighting some of the diverse stories inside the black experience. There is a short by Spike Lee and a feature film by one of his protégés, Michael Larnell; documentaries about Mary J. Blige and Misty Copeland; and films from South Africa and China. Here's what you can expect to see if you're attending the festival, and what you can hope to see in theaters or on video if you're not.
Beyoncé's Feminist Anthem "Run the World (Girls)" A Decade Later
1. In My Father's House
Hot off his Oscar win for co-writing "Glory" on the Selma soundtrack, Che "Rhymefest" Smith is the subject of the documentary In My Father's House. The artist and activist, who was 12 years old the last time he saw his father, goes on a personal journey to find him after moving back to his childhood home in Chicago. Smith won a Grammy for the song "Jesus Walks," which he co-wrote with Kanye West, and much like the music he creates, the documentary of his story is raw and moving.
2. Cronies
G/O Media may get a commission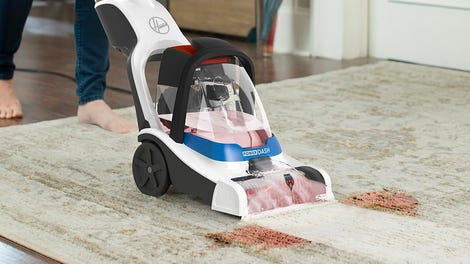 26% Off
Hoover PowerDash Pet Compact Carpet Cleaner
Cronies documents a day in the life of three male friends and what they will and won't do for one another when their bonds and boundaries are challenged. It's simultaneously sad and funny and completely enjoyable to watch. Triple-threat filmmaker Michael Larnell wrote, directed and edited the film, and Spike Lee, his teacher at New York University, executive-produced it. The film, shot in black and white, definitely brings to mind Lee's debut feature, She's Gotta Have It, but these are two distinctly different filmmakers with their own voices. (Lee also has a short at the festival, The Greatest Catch Ever, about David Tyree's amazing catch during Super Bowl XLII.)
3. Mary J. Blige—the London Sessions
The documentary Mary J. Blige—the London Sessions will make its world premiere at Tribeca on April 16, followed by a performance from the artist herself at the Beacon Theatre. The film highlights Blige's creative process during the making of her 13th studio album and shows her collaborative process with artists like Sam Smith and Emeli Sandé. It also documents in part her journey from New York girl to international superstar. "I was never expected to do more, jump further, go the extra mile. But breaking boundaries happened for me the minute I left Yonkers … and I won't stop as long as I live," Blige says in the film.
4. Down in the Valley
Down in the Valley follows former pro basketball player and Sacramento, Calif.'s first African-American mayor, Kevin Johnson, as he takes on the NBA to keep the city's basketball team from relocating. The documentary shows the social and sometimes political power of sports and how the community rallied together to save the Sacramento Kings. The film is part of ESPN's 30 for 30 documentary series, which brings a filmmakers' unique perspective to an equally unique sports story.
5. Necktie Youth
Necktie Youth is the debut feature from 23-year-old South African filmmaker Sibs Shongwe-La Mer, who wrote, directed and stars in the film. It explores the lives of middle- to upper-class 20-something black and white South Africans living in the affluent suburbs of Johannesburg, a much different perspective from what many people in the U.S. are used to seeing, especially given all the Mandela-based movies over the last few years. Instead of focusing on the past, this film looks at the present and what this generation of South Africans perceive as their issues of the day: race, but also drugs, sex and a general feeling of being lost.
6. A Ballerina's Tale
A Ballerina's Tale takes a behind-the-curtain look at the life of trailblazing dancer Misty Copeland, the third African-American female soloist at New York City's American Ballet Theatre. Filmmaker Nelson George is debuting his documentary at Tribeca in a special screening, which will be followed by a conversation with Copeland and a performance by her protégés.
7. Stranded in Canton
Stranded in Canton is a feature film about a hapless entrepreneur from the Democratic Republic of Congo who goes to Canton, China, to set up a business deal. He tries to manufacture political T-shirts to sell back home in Africa but ends up living in limbo. Director Måns Månsson said in the film notes that tens of thousands of sub-Saharan African merchants come to the Chinese megacity with dreams of a better life for themselves, make it their home and pursue trade opportunities—so many that the locals have dubbed the area they live in "Chocolate City."
8. Play It Forward
Play It Forward, executive-produced by former NFL star and TV host Michael Strahan, looks at the lives of two young men: former All-American football player Tony Gonzalez and his older brother, Chris, whose own football dreams were sidelined by an injury. The documentary captures Tony's quest to make it to the Super Bowl and Chris' career aspirations to become a firefighter.
9. (T)ERROR
To co-direct the documentary (T)ERROR, Harlem-based photojournalist Lyric Cabral had to earn the trust of a former black revolutionary who became an FBI counterterrorism informant. The result was access to the undercover operation he was previously involved in. The film won a Special Jury Prize at the Sundance Film Festival.
Rapper A$AP Rocky
Rapper A$AP Rocky doesn't have a film showing at the festival, but he will sit down for an interview with hip-hop journalist Elliott Wilson as part of the Tribeca Talks program. The rapper has proved himself a formidable actor in his Sundance hit Dope, debuting June 19. The interview will be filmed in front of a live audience April 21 and broadcast as part of Wilson's CRWN series, which airs at WatchLoud.