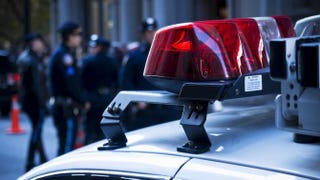 Police officers were stationed on Monday outside the home of a Pennsylvania man who may have been involved in "a killing spree" in which six people were shot dead and one person severely injured, Al-Jazeera reports. 
"The [alleged] gunman was identified as 35-year-old Bradley William Stone and described by authorities as being armed and dangerous," the news site explains. "Police also said he remained at large Monday, despite a flurry or action suggesting he may be holed up at a property in Pennsburg, about 30 miles northwest of Philadelphia."
Police officers used a megaphone warning Stone to come out of the residence.
According to Al-Jazeera, the shootings occurred "at homes in Harleysville, Lansdale and Souderton, three Philadelphia suburbs that are within a few miles of one another."
A neighbor said that Stone is a former member of the military and one of the shooting victims was his ex-wife. Risa Vetri Ferman, the district attorney in Montgomery County, said that all of the shooting victims had a "familial relationship" with Stone.
After police responded to 911 calls and found multiple people shot and killed, local schools were placed under lockdown.
Read more at Al-Jazeera.