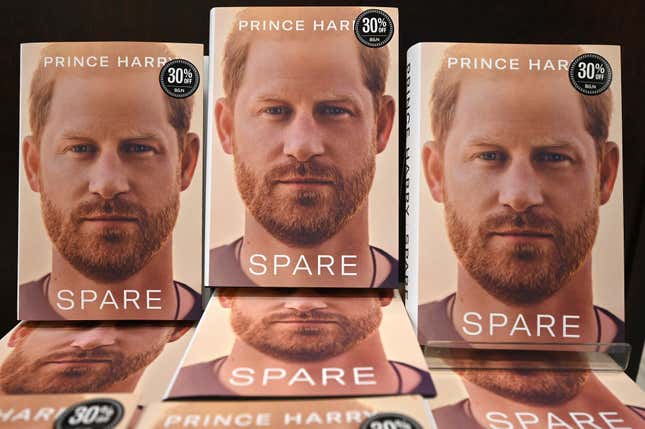 Prince Harry released his explosive new memoir, Spare, on Tuesday and it immediately jumped to number one on several bestseller lists. It's worth noting the consensus at The Root is that The Duke of Sussex, along with wife Meghan Markle, should stop talking about themselves immediately. However, that won't stop us from commenting on several revelations published in Spare that should have been saved for a therapist's couch. Here are five of those confessions that should have never been made public.
American Ninja Warrior: Season 15 Is Our TV Pick of The Week
1) King Charles III joked about not being Harry's biological father.
There were rumors for years that the late Princess Diana had an affair with James Hewitt and that he—not King Charles III—is Prince Harry's biological father. Harry was born in 1984 and the relationship between the two allegedly started in 1987. For reasons no one will understand, Harry felt the need to reveal that Charles would joke about not being his dad.

"Pa liked telling stories, and this was one of the best in his repertoire," Harry wrote in the book. Apparently, Charles would remark: "Who knows if I'm really the Prince of Wales? Who knows if I'm even [Harry's] real father? Maybe [Harry's] real father is in Broadmoor, darling boy!"
The prince added: "Never mind that [his] mother didn't meet Major Hewitt until long after [he] was born, the story was simply too good to drop." It's still messed up, fam.
2) Prince Harry lost his virginity to a cougar behind a dirty pub.
Again, why does The Duke of Sussex feel moved enough to share how he embarrassingly lost his virginity to some random old lady? In Spare, he even called the moment an "inglorious episode." Harry says he slept with "an older woman," who "liked horses, quite a lot, and treated [him] not unlike a young stallion." Um, what???
Luckily, he did not reveal the identity of the woman but said "it happened in a grassy field behind a busy pub" and that "obviously someone had seen [them]." This occurrence can be seen as a pivotal moment in a young man's life but this just sounds sad and like Harry was actually taken advantage of.
3) The Duke Of Sussex claims to have killed 25 people during his military stint in Afghanistan.
War is traumatic enough but the way Prince Harry insensitively discusses it in Spare is downright inhumane. He completed two tours of Afghanistan: one from 2007-2008 and another from 2012-2013. In the book, he said that "in the age of Apaches and laptops," Harry knows "precisely how many enemy combatants [he] killed. So, [his] number: Twenty-five. It wasn't a number that gave [him] any satisfaction. But neither was it a number that made [him] feel ashamed," he stated.
He also wrote: "You can't kill people if you think of them as people. You can't really harm people if you think of them as people. They were chess pieces removed from the board, Bads taken away before they could kill Goods. [He'd] been trained to "other-ize" them, trained well." Prince Harry noted that this kind of thinking was "problematic" but it shouldn't have even been shared in the first place.
4) Prince Harry clowned his stepmother Camilla in Spare by begging his father not to marry her.
According to Spare, Harry begged his father not to marry Camilla—who is currently Queen Consort—because he thought she would be a "wicked stepmother." Bro, that's wild to even say out loud since King Charles III married her anyway??
"[Harry] recall[ed] wondering, right before the tea, if she'd be mean to me. If she'd be like all the wicked stepmothers in storybooks. But she wasn't. Like Willy, [Harry] did feel real gratitude for that," Harry revealed. He also called Camilla the "other woman."
"[William] merely gave me the impression that the Other Woman, Camilla, had made an effort, which he appreciated, and that was all he cared to say," Harry wrote. Again, bro—that's wild.
5) Prince Harry tried to pin his racist Nazi Halloween costume on Prince William and his wife Kate.
You'd think that if someone wore a Nazi costume for Halloween—and was publicly condemned for it—they would just never bring it up again. Yet somehow Prince Harry couldn't help but write about the controversy in Spare. After the UK press dragged him for filth following the 2005 spectacle, he apologized by saying he was "very sorry if [he] caused any offense or embarrassment to anyone."
But in his memoir, he insists his brother and sister-in-law supported his decision. "[Harry] phoned Willy and Kate, asked what they thought. Nazi uniform, they said," he claimed. "[Harry] rented it, plus a silly moustache, and went back to the house." Regardless if the pair said that he should do it, the prince was grown AF when he decided to wear the racist garb. Has anyone ever told Harry that snitches still get stitches?