For a while it might have appeared that things were quiet or somewhat contained in the raging civil war between the Nigerian government and the violent extremists Boko Haram.
But in one hellacious weekend, Islamist-wannabe-front Boko Haram tuned up its horror show and killed 2,000 people during an ugly purge through nearly 20 northeastern Nigerian towns. It was an unexpectedly messy and depressing start to 2015 after 2014 claimed more than 10,000 lives in the struggle. In a gruesome copycatting twist, as if attempting to snatch the Terrorist of the Year trophy from groups like the Islamic State and al-Qaida, reports are streaming in from northern Nigeria about child suicide bombers as young as 10 years old.  
It seems chaotic, but there's a heavy geopolitical context that explains why Nigeria suddenly got so violent (again) in such a short time and why it's so important for us to know. Presidential elections are coming up, oil prices are down, Muslims are making a national power grab and the country's military sucks. So when someone asks you what makes Nigeria such a big deal, here's a four-point primer to get them up to speed: 
Nigeria is, simply, too big to fail. We've told you this before, and we'll have to tell you again: Nigeria is a massive population and economic powerhouse that can't collapse under the weight of an Islamist insurgency. It's now the continent's largest economy, a little-known fact to Westerners busily tweeting out racist Charlie Hebdo cartoons. It also houses Africa's largest population of 175 million. The country's relative wealth is what kept it, for the most part, completely protected from the spread of Ebola in West Africa. So, as you can imagine, a fully imploded Nigeria is the last thing you want.
Nigeria has presidential elections—on Valentine's Day. Feb. 14 is the day Goodluck Jonathan hopes he'll be re-elected president of Nigeria. A few months ago, he figured he had it locked: Ebola was West Africa's worst nightmare, yet the Jonathan administration managed to keep it out of Nigeria. That stroke of luck helped many forget, at least momentarily, how badly Jonathan was handling Boko Haram and that those nearly 300 kidnapped schoolgirls still hadn't been recovered. An added October announcement of a cease-fire and hostage release never panned out, giving Jonathan only a minute's worth of reprieve.
G/O Media may get a commission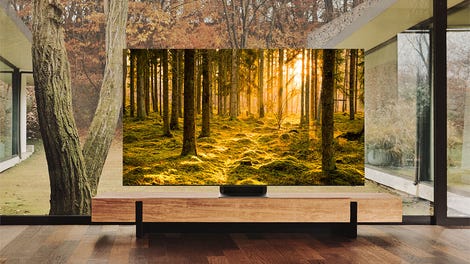 Up to 40% off
Samsung Smart TVs
This past weekend's violence, on scale with that of the Islamic State group, however, significantly changes the political calculus for Jonathan. The Nigerian presidential elections are seen by many observers as a political struggle for power between the country's oil-rich Christians in the south, which Jonathan represents, and the poorer Muslims to the north, represented by ex-military despot and challenger Muhammadu Buhari. Boko Haram—which means "Western education is a sin"—clearly hates the fact that politically powerful southern Christians are running things. To its members, anything Western and remotely democratic is anti-Islam. Their solution? Throw northern Nigeria into absolute chaos and maybe carve out a Boko Haram caliphate while at it. 
It's about the oil. These falling gas prices might be great for our pockets at the pump, but major oil-producing countries like Nigeria are already feeling a big fiscal squeeze. Oil is what made modern Nigeria—it, along with natural gas, makes up for 35 percent of Nigeria's gross domestic product. Falling oil prices are not a good look for Goodluck when 80 percent of his government's budget relies heavily on oil revenue. That partly explains Jonathan's inability to contain Boko Haram, since he has little money to spread around, even as he's promising an annual 2-million-job growth rate. While the insurgency is not expected to penetrate major urban centers like Lagos or the country's capital, Abuja, the oil money is what finances Nigerian stability. Without it, it all falls apart, unless the country can rapidly diversify into other industries.
Nigeria's World Cup soccer team plays better than its military fights. As tragic as Boko Haram's relentless scourge through the northeastern Nigerian landscape is the Nigerian military's poor state of readiness and inability to protect its citizens. Right before this weekend's massacre, in fact, Boko Haram actually seized an entire Nigerian military base. The largest economy on the continent should have the best-equipped and best-trained soldiers, right? Not in Nigeria.
That the African continent's fifth-largest army, with a nearly $4 billion budget and 150,000 active-duty personnel, fails even a nominal response to multitown massacres staged by lesser-equipped insurgents is scary. It not only offers a cautionary tale on corruption, and how Boko Haram has managed to infiltrate parts of the country's armed forces, but also gives us little confidence that Nigeria can survive this crisis, much less find those lost girls.
Charles D. Ellison is a veteran political strategist and a contributing editor at The Root. He is also Washington correspondent for the Philadelphia Tribune, a frequent contributor to The Hill, the weekly Washington insider for WDAS-FM in Philadelphia and host of The Ellison Report, a weekly public-affairs magazine broadcast and podcast on WEAA 88.9 FM Baltimore. Follow him on Twitter.