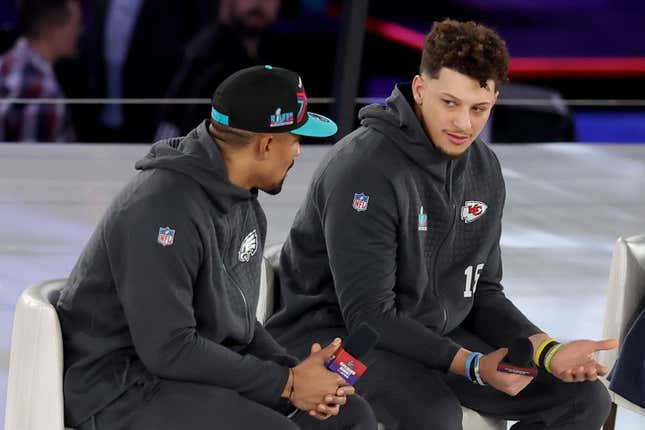 With the Philadelphia Eagles and Kansas City Chiefs gathered at the Footprint Center in Phoenix, Ariz. for Monday night's Super Bowl LVII Opening Night press conference, the media frenzy that is Super Bowl week has officially begun. In the midst of being asked normal questions about the game and their opponents, the players also discussed touchdown celebrations, favorite barbecue restaurants and the best cheesesteak spots. However, for quarterbacks Patrick Mahomes and Jalen Hurts, the question on everyone's mind was how the athletes are handling making history as the first two Black quarterbacks to start a Super Bowl.

As big a deal as this is for Black athletes, Hurts doesn't think this will be the last time two Black QBs meet in the NFL's biggest game. I truly hope he's right, but Halle Berry also thought another Black woman would have won the Oscar for Best Actress by now. We don't always get a second chance at creating history, so he and Patrick should enjoy every single minute of this.
"It can be done. The game has evolved. Times are changing," Hurts said. "Obviously being part of something so historic and making history. You talk about breaking records and being the first to do this, but I think this is something on a whole different level. A whole different magnitude, holds a different type of weight."
Like a lot of the hoopla surrounding the big game, he hasn't completely processed the moment but feels he'll be able to fully appreciate it after all the craziness dies down.
"I don't know if I really have digested and kind of understand what's going on just yet," he added. "But maybe later on. But obviously for my parents and my grandparents, this is something that isn't normal. It's special."
During his interview with the NFL Network's Michael Irvin, Mahomes saluted the players who paved the way for him and Hurts, while also acknowledging that they are now role models for the next generation.
"I have a lot of respect for the guys that came before me and laid the foundation," Mahomes said. "They gave me the position to be here and play against a guy like Jalen—a genuinely great dude who's worked his tail off to be in the position that he's in. It's going to be a special game and a special moment for a lot of kids to watch as they grow up and try to assume that role that we set the example for."
Despite the fact that the majority of NFL players are Black, the quarterback position has never been seen as something that Black athletes could handle. The old stereotypes of Black men not being smart enough, or professional enough, or marketable enough have persisted until today. So, to have two extremely talented Black QBs—who are known as much for their athleticism as they are for their intelligence—is the best thing to happen to the Super Bowl.
Super Bowl LVII, featuring Rihanna in the Apple Music Super Bowl Halftime Show, airs live Sunday, Feb. 12 on FOX. The actual game kicks off around 6:30 p.m. ET/3:30 p.m. PT, while Fox begins its coverage with Super Bowl LVII Pregame at 1 p.m. ET/10 a.m. PT.