In less than two weeks, actor-turned-director Nate Parker has gone from being praised by many to being vilified by others over his reported past actions 17 years ago. As the producer, director, co-writer and lead actor of his directorial debut, The Birth of a Nation, he is the face of the film, while slave rebellion and his hero, Nat Turner, are the subject and selling point. 
When the film went to this year's Sundance Film Festival and won the top two coveted awards, every studio wanted it for distribution, and Fox Searchlight ultimately won with a record amount ($17.5 million), the biggest purchase in Sundance history.
With that amount, The Birth of a Nation will still be given a widescreen commitment (over 2,000 theaters) during its release in awards season, despite the fact that it's in a muddy-waters situation at this point. 
Parker is not yet a household name, but many of the mainstream press are using this opportunity to churn out stories for click bait. It's interesting that as much time as Parker gave to the black press outlets for years when he was just an actor, and even after The Birth of a Nation gave him more attention, no one picked up on this story until two trade magazines ran the story on the same day. Now everyone wants to horn in with their two cents.
While it's important not to disregard what transpired between Parker, his co-writer and the woman who was raped and who committed suicide a decade later, let's not forget that Turner's story is bigger than Parker, and keep in mind that there's plenty of time before the film is released in theaters Oct. 7.
G/O Media may get a commission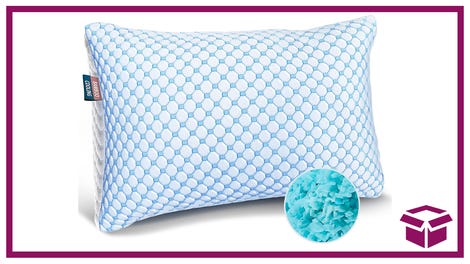 23% off
Nestl Cooling Pillow - Queen Size
Anything can happen between now and then.
The first test will come at the Toronto International Film Festival on Sept. 9, when the film is shown there. The cast and Parker are expected to attend and do a number of press interviews. When the film is shown, either it will get a standing ovation, as it did at Sundance, or something different. If the reviews are good enough to maintain its Rotten Tomatoes score above 90 percent, then it will indicate that the press stuck to their jobs as critics rather than let the filmmaker's past change the course. 
While Fox Searchlight's marketing strategy will more likely change, the distributor is giving the film its full support. Colleagues have stated that The Birth of a Nation is a film of our current time. With Black Lives Matter, it's a story about black people standing up and pushing back against oppression.
Come October, after Fox has spent its money on the marketing and cast promotion, average moviegoers will decide for themselves whether The Birth of a Nation is worth seeing—and more than likely they will go.
Wilson Morales is the editor of Blackfilm.com, for which he also writes reviews and conducts interviews with producers, directors and actors. In addition, he is president of the Black Film Critics Circle and a member of the Online Film Critics Society and Broadcast Film Critics Association.