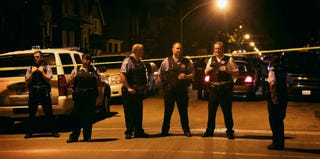 Since yesterday afternoon, at least seven people have been wounded by gun violence in Chicago, the Chicago Tribune reports. They included a 15-year-old boy who was hit in the arm and ankle by shots fired from a car, and a 17-year-old girl shot in the chest and back.
Another teen was wounded in the Park Manor neighborhood around 11:25 p.m., police said. A 17-year-old girl and a 24-year-old man were shot while standing in front of a house in the 6800 block of South Wabash Avenue. 

The girl was shot in the chest and back and was in fair condition at John H. Stroger Jr. Hospital, police said. The man was shot in the chest and grazed in the arm and was at the same hospital in fair condition. 

In the Englewood neighborhood around 10:20 p.m., a man, age 42, was shot in the leg in the 6400 block of South Morgan Street. Police said his condition was stabilized at Adviocate Christ Medical Center in Oak Lawn.
Read more at the Chicago Tribune.