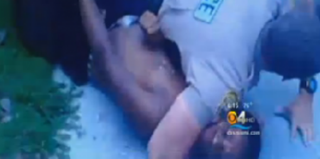 AlterNet is reporting on the story of a 14-year-old Florida boy who says he was feeding and playing with his 6-week-old puppy when he was pinned to the ground and choked by Miami-Dade police officers. His alleged crime: giving the officers "dehumanizing stares" and "clenching his fists."
We would have you guess the teen's race, but that would be too easy.
Fourteen-year-old Tremaine McMillan says he was feeding his puppy and playing on the beach with some friends when cops riding ATVs approached him and asked what he was doing. The "peacekeeping" officers say they saw McMillan roughhousing with another teenager, told him it was "unacceptable behavior," and asked where his mother was. When McMillan walked away, they chased him on ATVs, jumped out, pinned him to the ground and arrested him. According to police reports, McMillan "attempted to pull his arm away, stating, 'Man, don't touch me like I did something.' " See footage of the incident, captured by McMillan's mother:
Read more at AlterNet.