Prince Fielder's ESPN the Magazine cover showed us a different—and more revealing—side of men who have a little extra to love when he posed nude for the Body Issue of the magazine. Whether it's his style, smile or sense of humor, there's something special about an extra-large man whom many admire. Fans using the #HuskyTwitter hashtag made sure we understood that. The Texas Ranger infielder, along with these 13 other husky heroes, reminds us that bigger is sometimes better.
1. Mike Adams (@Channel75live), 24
We love all 323 pounds on the tackle for the Pittsburgh Steelers.
G/O Media may get a commission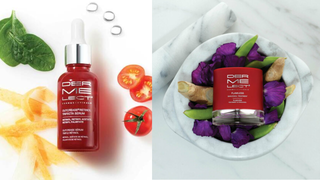 Save $19
Retinol Renewal Kit
This rapping-acting-producing-screenwriting hip-hop legend proves that big men can do it all without breaking a sweat.

3. Wendell Pierce (@WendellPierce), 47
Known for his roles in HBO dramas The Wire and Treme, the New Orleans native has had a long career in television and in movies. 
4. Rick Ross (@rickyrozay), 38
We know you're losing weight, Rick, but don't lose too much. Remember, there's nothing wrong with being rotund.

5. Kenan Thompson (@officialkenan), 36
The chubby kid from TV's All That has come up in the ranks to hold his own on Saturday Night Live.
6. Michael Oher (@MichaelOher), 28
The former right tackle for Baltimore Ravens just cashed in on a hefty $20 million contract with the Tennessee Titans for the upcoming season.  
7. Cedric the Entertainer (@CedEntertainer), 50
For years Cedric has proved that husky guys have more jokes than most of us. Bow down to one of the original kings of comedy.

8. David Banner (@THEREALBANNER), 40
It's no secret that this bulky rapper is Mississippi-bred.  
9. Anthony Anderson (@anthonyanderson), 43
Anthony has had numerous comedic roles that prove big guys have more fun. We're excited to see what he has in store for his upcoming ABC show Black-ish.

10. Glen Davis (@iambigbaby11), 28
Nicknamed "Big Baby," the power forward for the Los Angeles Clippers is an unstoppable force.
11. Timbaland (@Timbaland), 42
Everything this Grammy Award-winning superproducer touches turns into gold. Everything Timbaland does is, well, big.
12. Craig Robinson (@MrCraigRobinson), 42
Craig brings the funny every time. The chunky comedian's list of productions he's starred in is almost as long as his list of punch lines.

We're sprung, too, T-Pain. Well, on your music. But it doesn't hurt that we assume your heart is as big as your belly and chain combined.  
Husky Hopeful: Chris Brown (@chrisbrown), 25
After spending time in jail, Chris has been criticized for his weight gain. He's not worried, however. We like this almost-husky, healthy and happy version of Chris. He deserves an honorable mention and another plate.
Editor's note: The original version of this article stated that Glen Davis plays for the Orlando Magic; in fact, he plays for the Los Angeles Clippers. 
Taryn Finley is a summer intern at The Root. Follow her on Twitter.