A Rhode Island high school student was cuffed and another student was slammed to the floor by a school resource officer who claims the two students attacked him, although video of the incident seems to tell a different story.
According to ABC 6 News, a 40-second video posted to social media shows the tail end of the incident, which happened as students were leaving Tolman High School in Pawtucket, R.I., Wednesday. In the video, an officer has already cuffed a 17-year-old, who is lying on the floor. It appears that the officer then turns and grabs another student, reported to be 14 years old, and slams him to the floor. A voice off camera can be heard yelling, "You can't do that!"
That video led some 100 students and adults to protest outside the high school Thursday morning. News station WPRI notes that eight students and two adults were arrested during the protest, which included officers using pepper spray on the crowd.  
"The school resource officer did that for show, and he wanted to get his point across that he's big, bad, and tough … when in reality, he did not have to do that and hurt him," Tolman student Jose Morales told ABC 6 News.
Police told ABC 6 News that the footage doesn't tell the entire story. Police say that as students were leaving the school, one teen was being disruptive. The school resource officer escorted the 17-year-old boy into the office. The officer said that the boy continued to be disruptive and reportedly pushed him. The officer took the teen to the floor and placed him in handcuffs, police said. The officer said that the boy's brother, a 14-year-old who also attends the school, entered the office and punched the officer. The officer then flipped him to the ground, which is part of the footage shown on video.
Police told the news station that while they are still investigating the incident, faculty members support the officer's version of events.
G/O Media may get a commission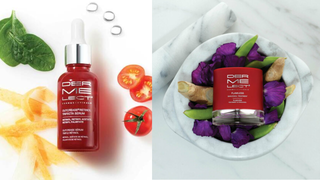 Save $19
Retinol Renewal Kit
WPRI reports that Thursday's protest was going peacefully until a fire alarm inside the school went off, causing several students who were not initially apart of the protest to join. Pawtucket police and Mayor Donald Grebien reportedly tried to encourage students to return to class.
"I'm asking you to put your trust in me. I'm going to listen to you," Grebien reportedly told the students.
Police say that a student broke a window and police then began making arrests and demanding that students return to class. In total, 10 people, including the student who police believe broke the window and the student responsible for pulling the fire alarm, were arrested.
Read more at ABC 6 News and WPRI.