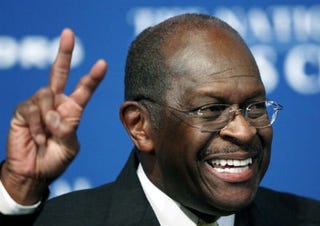 There are reports of explosive new details in the continuing saga of sexual harassment charges against GOP presidential hopeful Herman Cain when he was CEO of the National Restaurant Association. Charlie Spiering of the Washington Examiner quotes the Wall Street Journal and the New York Times:
Cain has already explained one incident of sexual harassment charges. But it looks like he may have to address the 'second woman' cited by anonymous sources, who claimed Cain invited her up to his room.
The Wall Street Journal reports:
"Two people with knowledge of the situation told The Wall Street Journal that the trade group came to a financial agreement with at least one female employee in the late 1990s after she alleged an inappropriate advance by Mr. Cain. One of these people said that Mr. Cain, during an industry-related conference, asked a female employee of the association to visit his room. The person said that woman declined Mr. Cain's suggestion, there was no physical contact and Mr. Cain was not intimidating. A second person, a member of the restaurant association's board, told the Journal that a special committee of the trade group's board looked into the woman's complaint. Both people said the investigation resulted in a financial arrangement."
The New York Times reports:
"In separate interviews, two people who were affiliated with the restaurant group at the time said that they knew of the second female employee, and that she had received a payment related to harassment accusations against Mr. Cain during his 1996-99 tenure as the association's chief executive. The two spoke on condition of anonymity to avoid being pulled into the matter publicly.
They said the second woman similarly had complained about what she said had been Mr. Cain's inappropriate conduct toward her. One of them said she had been taken aback by one interaction in particular while they were traveling, but this person declined to give details. He said he believed the allegation of harassment was not the only issue involved in the woman's termination package."
At first the charges appeared to be much ado about nothing as Cain brushed aside the allegations. But now it looks like he has some serious explaining to do. His aw-shucks "What had happened was" explanation is beginning to wear thin. He should begin to answer questions and stand firm in the answers.
Read more at the Wall Street Journal and the New York Times.
In other news: Samuel L. Jackson: Highest-Grossing Actor of All Time.