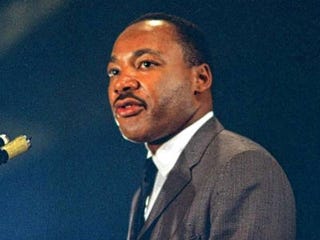 A large and comprehensive collection of Martin Luther King Jr.'s documents is now available online. The collection, consisting of nearly 1 million documents, will be available at the King Center Imagine Project. You can find them here.

There are letters and telegrams that show correspondence between King and the likes of John F. Kennedy, Thurgood Marshall and Sammy Davis Jr., to name a few. In one of the letters, King asks President Kennedy to select William Hastie or Marshall as a Supreme Court justice. "Both men are imminently qualified to fill vacancy," he wrote. "This is superb opportunity for the administration to reveal to the world its serious determination to make the Negro a full participant in every phase of American life."
Kennedy selected Byron White, but Marshall was later chosen as a Supreme Court justice under President Lyndon B. Johnson.
It will be great to be able to read many of the documents that we haven't had a chance to look at for decades. This will be a great resource not only for children and teenagers in school but also for adults who are interested in learning more about King.

Read more at the Daily News.