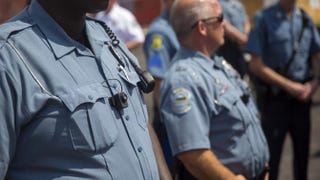 There was something different about officers in the Ferguson Police Department over the weekend as protesters continued their calls for justice in the fatal shooting of Michael Brown in the Missouri city.
Officers have started wearing the body cameras provided by two companies, Safety Visions and Digital Ally, the St. Louis Post-Dispatch reports. The cameras were donated after the fatal Aug. 9 shooting of the unarmed teenager by one of Ferguson's officers.
The equipment attaches to the officer's uniform and records video and audio. Representatives from the companies were on-site on Saturday training the officers to use the cameras.
"We are still playing with them," Ferguson Police Chief Thomas Jackson said. "The quality is good."
According to the Post-Dispatch, each officer will be equipped with a camera. Batteries for the devices were drained on Saturday because of the constant use but are expected to last a normal full shift.
The police chief told the Post-Dispatch that the officers were open to the use of the cameras. "They are really enjoying them," he said. "They are trying to get used to using them."
Since Brown's death, questions have been raised about why more police officers haven't been equipped with cameras to curb violence on the side of either party. Footage is also seen as a way to clear up "he said, she said" stories, where uncertainty prevails.
As the news site notes, a White House petition, backed by more than 150,000 people, has been pushing for a national "Mike Brown law" that would demand that all state, county and local police officers wear a camera. 
Read more at the St. Louis Post-Dispatch.