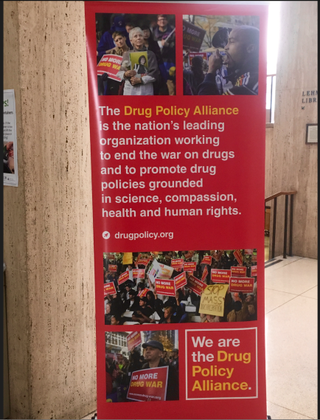 Editor's note: This post contains tweets that some may find offensive.
On the eve of a United Nations special session to discuss the world's drug problem, the Drug Policy Alliance (pdf), spearheaded by Asha Bandele, veteran organizer and DPA senior director, convened a special gathering at Columbia University in New York City to discuss the United States' problem with black and brown people and how that shaped and continues to propel the so-called war on drugs.
This war stigmatizes drug users and criminalizes low-level drug traffickers without seeking to dismantle the oppressive and racist conditions—including poverty, mass incarceration, lack of access to education and health care—that lead to the illegal drug trade. Because of this, Kassandra Frederique, state director of the New York policy office of the Drug Policy Alliance, told the engaged crowd of over 300 people—a diverse group of policymakers, executives, organizers and activists—that it is critical that we remember that "the war on drugs has gotten [black people] to dislike each other."
To combat this generational fraying of community bonds, DPA brings active drug users into spaces of decision-making to help shape policies that directly impact their lives.
"The experts are the people living their lives every day," Frederique continued. "We're here to change lives, we're here to save lives. [We're here] to be intentional, strategic and put it all on the table."
During the day of fiery panels Sunday, the conversations did not shy away from reckoning with the internalized racism that permeates black and brown communities, creating space for a white supremacist system's hatred to become more palatable. 
Svante Myrick, mayor of Ithaca, N.Y., said he decided to circumvent that system and tackle the war on drugs head-on in his small college town by becoming the first mayor in the nation to propose safe injection sites for heroin. 
"There is a lot of moralizing from politicians, but the goal isn't sobriety, it should be health," Myrick said in conversation with Carl Hart, professor of psychology and psychiatry at Columbia, and author of High Price: A Neuroscientist's Journey of Self-Discovery That Challenges Everything You Know About Drugs and Society.
Still, when it came to the topic of policing and the war on drugs, which is really a war on black, brown and poor communities, Myrick said little about how blue privilege and white power poison police officers who have been militarized to fight the war.
"The vast majority of our police officers are not racist, but they are asked every day to enforce racist policies," Myrick said as murmurs of dissent rose from the audience.
According to Hart, that kind of politically safe rhetoric points to one truth.
"Politicians have limitations, and they are never going to save us," Hart said as the audience snapped and clapped in agreement.
"Because of the severity of racial discrimination, much more accurate than the diluted 'racial disparities' embedded in our political system," Hart said, "we cannot be 'ambivalent' about critiquing politicians even when they look like us.
"The majority of drug users are not pathological," Hart said. "But people feel comfortable about those [pathological drug users] they can help."
Though there has been a shift in sociopolitical tone as we enter the age of a "gentler," whiter war on drugs, Hart urged attendees not to be distracted by that simplistic, media-driven narrative.
"They may be gentler on the [white] user, but black people are disproportionately arrested for the selling of opiates," Hart said. 
"In the U.S., it's comfortable to arrest black and brown bodies," he continued. "Always pay attention to who's getting arrested."
Joseph "Jazz" Hayden, founder and director of Still Here Harlem Productions, once played a role in creating pathological drug users.  
A former member of the Council, a notorious New York City drug syndicate founded by Harlem gangster Nicky Barnes in the 1970s, Hayden says that the drugs he used to traffic are nothing compared to those sold by today's pharmaceutical companies.
"I haven't used [illegal] drugs in 45 years," Hayden said during a panel on harm reduction. "But Big Pharma has me hooked on blood pressure pills for the rest of my life. 
"If I stop, I'll die," Hayden continued. "No different from what pharmaceutical companies do and what we were doing on the street."
Though the gathering unofficially kicked off Saturday night with a screening of Treasure—a documentary directed by activist, organizer and filmmaker dream hampton that powerfully exposed the systemic criminalization of and violence against transgender black women and how that intersects with the economic depravity of the war on drugs—the absence of voices of black women who have been targets in this war as both users and sellers—not just mothers, wives, sisters and daughters left to pick up the pieces while their men are rounded up for mass incarceration—was noted Sunday by a few of those in attendance.
"The risk for women is steeper than it is for men, and it would be dangerous to put them on a panel discussing active drug use," Bandele said, addressing that criticism. "Drugs are still illegal, and [some] women face the possibility of getting their children taken away. We weighed the risks and made a very intentional decision."

During an all-women panel, "The Cost of War and Solutions for Peace: Women Taking the Lead," Deborah Peterson Small, executive director and founder of Break the Chains: Communities of Color and the War on Drugs, called out the United States' "attachment to punishment."
"We have these shows, Weeds, Breaking Bad, [because] this is the language that we give them," Small said. "Be good to the user and the possessor, but [f—k] over the trafficker … when the user is often the trafficker.
"We need to talk about the real traffickers," Small continued. "Big Pharma, big banks, big advertisers."
Shilo Murphy, co-founder of the People's Harm Reduction Alliance, Seattle, who is white, reiterated that racial discrimination serves as building blocks for the war on drugs and accused other white people of rendering people of color invisible.
"I acknowledge my white male privilege," Murphy said. "I didn't get over on the system when my black friends went to prison and I didn't. I realized that the system was working in my service.
"Black people go to prison; white men (and some women) get to be executive directors," Murphy continued. 
Not content to merely strategize within the privileged walls of Columbia University, conference attendees gathered in front of the U.N. Monday to raise awareness about the war on drugs and mass incarceration through a racial lens, the only way that the institutional and systemic violence against and criminalization of black and brown people can really be seen.
And Monday night, a smaller gathering took place at Harlem's historic Abyssinian Baptist Church, formerly pastored by legendary civil rights activist and congressman Adam Clayton Powell Jr., seeking to strengthen bridges of understanding and action between faith-based communities, activists and drug policymakers.
These bridges are critical for "healing and moving forward with purpose, conviction and solidarity," Bandele said.
"We do so much of this work standing in the blood of our children," she said, her voice breaking and with tears in her eyes.
This was a sentiment shared by Dorsey Nunn, executive director of Legal Services for Prisoners With Children, who in one statement perfectly summed up the stigma attached to drugs, the mass criminalization of black bodies and the respectability politics that must be eradicated for the war on drugs to ever be fully won.
"My son might not have Skittles and iced tea," Nunn said, banging his fist on the table with emotion as he spoke on the 2012 killing of 16-year-old Trayvon Martin. "He might have a beer and a blunt, and I still expect his ass to make it home alive." 
As was often said throughout the conference, which was just as much a family gathering as a strategy session, ashe and amen.