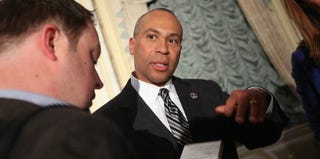 Speaking in fairly definitive terms, Massachusetts Gov. Deval Patrick said on Tuesday that he will not run for president in 2016, and he also suggested that he had no plans to become the next attorney general, the Washington Post reports.
"I am not running for president in 2016," Patrick told reporters at UMass Boston, according to a transcript obtained by the Boston Globe.

"I'm going to finish this second term, I'm going to go back into the private sector," Patrick said. "And as Diane, my wife, says, pay some attention to our family and friends while they are still willing have us pay some attention."
Read more at the Washington Post.