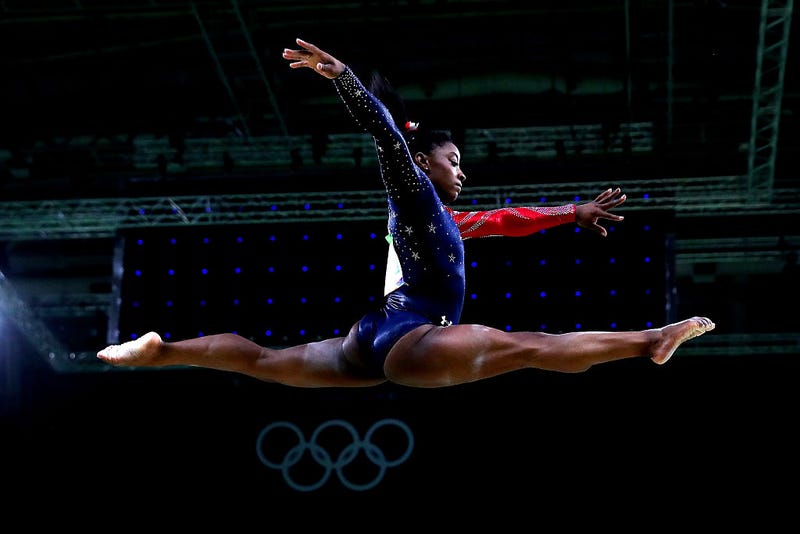 When we look back on the Rio de Janeiro 2016 Olympics, no account will be complete if it fails to mention the Olympic force who is Simone Biles. For the last two weeks, Biles' journey into the history books has captured the hearts and minds of every Olympic watcher. She beamed, vaulted and floor-danced. She met her real-life crush, actor Zac Efron, in front of millions on morning television. She epitomized #BlackGirlMagic and dared little girls across America to outrun their dreams.
Biles' amazing 2016 Olympic run challenged our imaginations. And while the media has been filled with accounts of her rise to Olympic greatness, it has also predictably used her life as a way to trot out one of the most pernicious tropes of the war on drugs: the "black, drug-addicted mother." According to the media, Biles' rise is all the more astonishing because she spent the first several years of her life under the care of her mother, Shannon Biles, who was eventually deemed "unfit" to care for her daughter because of her problematic use of drugs and alcohol.
Not much is known about Shannon Biles aside from the trope of the black, drug-addicted mom who chooses drugs over her children and eventually gives them up to the foster care system. Unsurprisingly, it is a trope reserved for black mothers, despite the fact that white and black women use drugs at roughly the same rates (pdf). This wholly inaccurate trope gave rise to some of the most infamous policies of mass incarceration, such as sentencing disparities in which penalties for crack were 100 times harsher than for cocaine.
Less discussed in the mainstream media is how politicians have offered this trope to justify policies and practices that surveil and punish black women and parenthood—for example, requiring parents to submit to unannounced inspections of their homes by public assistance or child welfare caseworkers; or requiring parents to pass drug tests to do anything from receiving food assistance to taking their child home from the hospital.
In truth, the caricature of the black addicted mom simply does not exist. Yes, there are mothers (and fathers, for that matter) who have a problematic relationship with controlled substances. And yes, there are parents whose problematic usage, in combination with other life circumstances, may render them unable to care for their children for some amount of time. However, it is important to note that contrary to popular belief, drug addiction does not necessarily, or even usually, render a parent unable to care for his or her child.
Addiction can be a health issue; it is never a moral failing as it is so often depicted. There is no basis (pdf) for distinguishing drug addiction from other illnesses with biological, genetic and behavioral dimensions. Given these realities, America's response to families who are in need of assistance in addressing drug addiction is abhorrent.
We would never vilify a mother who was battling untreated diabetes for being momentarily unable to care for her children. We would never condone withholding evidence-based medical care from her, make her endure the embarrassment and stress of punitive child welfare proceedings, or deem her "unfit" and legally terminate her relationship with her children. We would never, decades later, look back and muse over her "incompetence" and shine a "redeeming" light on her because she had fought and overcome her illness.
And yet, time and time again, we allow the child welfare system to treat parents who use certain substances in this way. Chances are, the amount of public money spent on providing Shannon Biles with basic necessities, such as child care, health care and access to evidence-based drug-treatment programs, paled in comparison with the amount of money spent on foster care for her children (or was nonexistent).
Equally tragic is the realization of how society has failed to give loved ones of those who struggle with addiction the language to speak of their loved ones' addiction. Watching Simone Biles recite scripted answers about her mother and watching Shannon Biles' father painfully try to maintain dignity around his relationship with Shannon and Simone gives us ample reason as a society to center humanity as opposed to sensationalized headlines.
When we reflect on Simone Biles' rise to greatness, what is remarkable is not that she is who she is in spite of having a mother who used drugs. What is remarkable is that her life took a course so dramatically different from those of the vast majority of black adolescents separated from their families by the state, who often languish in foster care, become legal orphans or are placed in adoptive homes that are no safer than their homes of origin.
What is remarkable is that, had our "social safety net" operated as it normally does, it would have deprived our country of its most decorated gymnast of all time.
Kassandra Frederique is the New York state director for the Drug Policy Alliance. Follow her on Twitter.\r\n
Lisa K. Sangoi is a 2016 Soros Justice fellow. Follow her on Twitter.