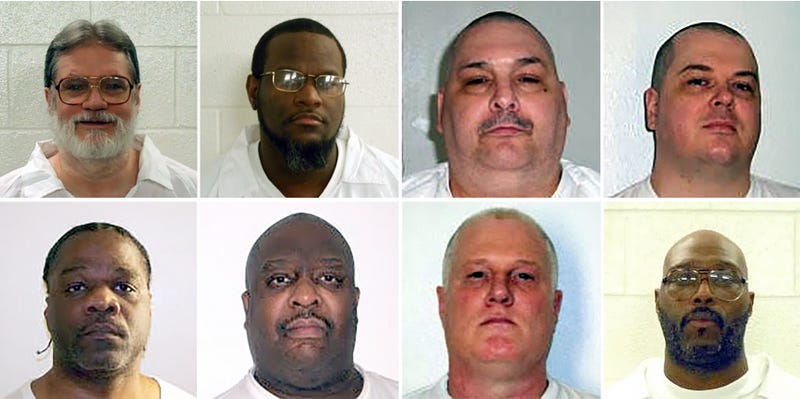 In what only can be described as a mad rush toward death, the state of Arkansas plans to execute eight inmates in April because of a looming expiration date for a drug the state uses in executions.

The New York Times reports that all eight men—four black, four white—were convicted of murders that occurred between 1989 and 1999, and so, after waiting for at least 15 years, they will be put to death by the state next month, all within the span of 10 days.

Arkansas's governor, Asa Hutchinson, said he didn't love the fact that the executions are so close together, but he's moving forward anyway.

"I would love to have those extended over a period of multiple months and years, but that's not the circumstances that I find myself in," said Hutchinson, a Republican former federal prosecutor, in a statement Friday.
Hutchinson deemed it necessary to schedule the executions close together because of doubts about the future availability of midazolam, one of three drugs the state uses in its lethal-injection procedure. Critics of the drug contend that inmates are sometimes able to feel pain, and say it has been the culprit in several bungled and inhumane executions in recent years.
Because of the controversy, many pharmaceutical companies have restricted their drugs from use for capital punishment, and some states have difficulty finding midazolam. Arizona announced last year that it would stop using it in part because of the logistical challenges; some lawmakers in Mississippi actually proposed using a firing squad because of such issues.