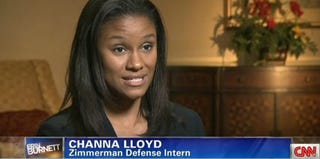 CNN interviews Channa Lloyd, the mysterious African-American intern who's been assisting George Zimmerman's attorneys throughout the trial. Her very presence at the defense table has raised questions in the racially charged case and set Twitter abuzz.
But the 34-year-old, third-year law student in Orlando, Fla., tells CNN that before accepting the volunteer position, she asked lead defense attorney Mark O'Mara if Zimmerman was racist.
"He said, 'No, I wouldn't work for him if he was.' " When asked why that was important, she said, "Being African American, even if he was a client in need of representation, I don't know that I would have been able to divorce that. You have to have the proper representation and people who can do that."
Watch the interview here:
Read more at CNN.